Global strategy consulting business, Strategy&, part of PWC has published a five year forecast for the media and entertainment industry in the MENA region. In this report, the term MENA represents- Algeria, Bahrain, Egypt, Jordan, Kuwait, Lebanon, Morocco, Oman, Qatar, Saudi Arabia and the UAE. COVID-19 has had an extraordinary impact on entertainment, media revenues and patterns of consumption in the Middle East and North Africa (MENA), just as it has across the world.
While recovery is expected in the near future, the changes in consumer behaviour require media companies in the region to consider new digital business models such as subscriptions, leveraging direct relationships with consumers and monetising content rather than relying solely on advertising, as they have done in the past. This report dives in to the shift to digital entertainment and paid content, the new business models and infrastructure required to support this change, and what governments and regulators can do to support the evolution of the industry.
The shift to digital: OTT, gaming and audio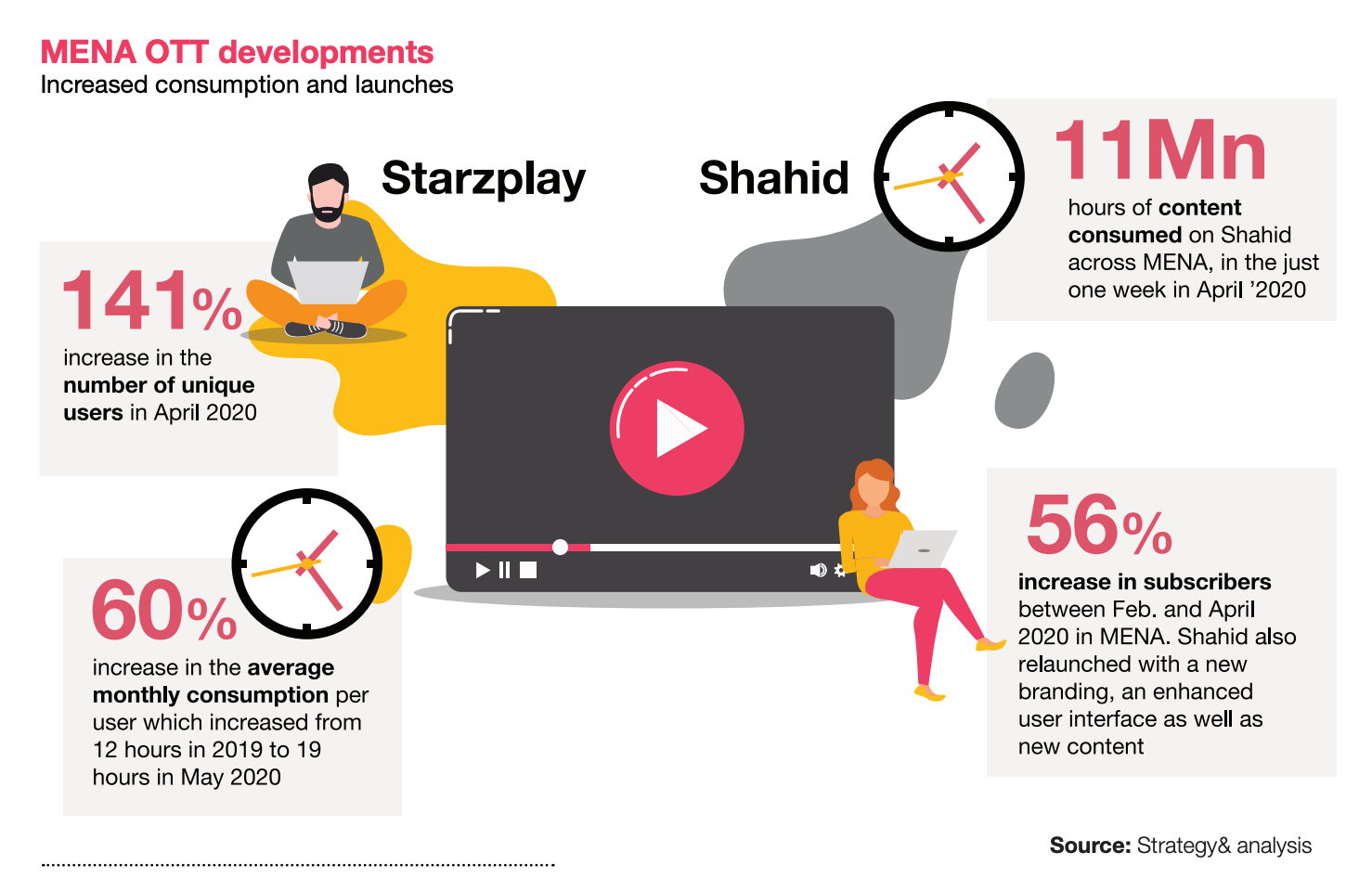 In MENA, digital revenue is expected to make up 42% of total entertainment and media revenue, while gloablly, digital spending will account for the majority of revenue for the first time this year, reaching 51% of total revenue. The pandemic has accelerated the adoption of streamed video content (OTT video) and music in the region, and boosted the popularity of online gaming even further. Subscription services such as Netflix, Shahid (owned by MBC) and Dubai-based Starzplay Arabia have added more local content as unique user numbers and hours spent watching both increased between 2019 and 2020.
OTT video revenues are expected to grow by 12.3% CAGR between 2019 and 2024, spurred by greater choice on both regional and international OTT video platforms.This also means OTT video services taking share from the pay-TV market, which is forecast to grow by just 0.6% in the same period.
The lockdown has also managed to give the gaming industry a major push globally and in the MENA region. Gamers in MENA have spent 24% more time playing in 2020 than in 2019, compared with an 11% increase globally. Video games revenue will increase by 8.1% CAGR in MENA between 2019 and 2024 to an estimated $4.1bn, outpacing the global increase of 6.4% CAGR and becoming the largest segment of the entertainment and media market in the region.
E-sports is still a very small part of entertainment and media spending, and during the pandemic the fledgling sector has been impacted by the absence of live events, at which audiences get together to watch star players battle it out. However e-sports revenue is expected to grow by 23.3% CAGR between 2019 and 2024 in the region.
Digital audio, whether it's music or podcasts has also experienced a surge in adoption last year. But radio was still standing strong in countries like the UAE.

Read our covergae of the Nielsen study on UAE radio listnership

In 2020, Anghami reported a 25% increase in music listeners, compared to 2019. The number of podcast listeners is expected to increase 30% between 2020-2021. Digital audio revenues will increase by 19.8% CAGR in the region between 2019 and 2024, although they will still account for a smaller share of the overall music market (32% by 2024). Podcast advertising is at a very early stage in the region, but we expect it to show rapid growth of 24.4% CAGR to 2024.
The changes In the business model
Media and entertainment companies must make changes to their business model in order to capitalize on these new trend and habits. The advertising market is expected to grow at 1.4% CAGR to 2024, while consumer-paid revenues will grow by 3.5% CAGR over the same period. Within ad spending, 42% of revenues will come from digital ads by 2024.
The report recommends companies to do the following -
Reduce reliance on purely advertising-funded media by building a direct-toconsumer platform that can either be subscriptionbased or a mix between advertising and subscription content. Consumers have grown accustomed to using paid content models during the pandemic. It can also help foster community brand building.
Deploy acquisitions and strategic partnerships to build the required skills in the fastest growing and emerging revenue streams. For eg - Starzplay's relationships with Etisalat and Samsung smart TV.
Build scale through geographic expansion across the region as well as a robust local content inventory to remain competitive against global digital media players. Scale is needed to offset the ongoing rise in content costs.
Key actions for each stakeholder
Regional media companies need to develop and evolve digital business models, and leverage the opportunity to build direct-toconsumer relationships. The first step is to identify and develop the digital competencies they need, and assess the optimal ways to scale these - that may be through acquisitions or partnerships.

Telecom operators have long harboured ambitions to diversify into the media sector to tap new sources of growth and increase average revenues per user. Their distribution capability, ability to invest, consumer data and direct billing relationships position them well to serve the ever-growing appetite for digital content, and can be acheived through acquisitions or partnerships.

For multinational media and entertainment companies, MENA can be an attractive growth market with a large, young population. To succeed, they must first recognise that while the region is sometimes perceived as one entity when viewed externally, it is composed of widely divergent markets with varying degrees of economic development, regulatory environments, and content preferences. Prioritising markets by their potential and ease of entry is key, as is navigating the content production ecosystem and working with regulators to understand their obligations.

Governments and regulators in the region will have a role to play in ensuring the benefits of the shift to digital forms of media and entertainment are available to the greatest number of citizens, and that potential harms are minimised. Their primary role will be deploying the right digital infrastructure to allow audiences to access new channels and forms of content. They can also support innovation and the creation of local content.

As consumers adopt digital services, media and entertainment companies will be responsible for far more personal data than in the era of analogue/ broadcast content consumption. Consumers will expect media companies to safeguard this data and not misuse it.