This year's Snap Partner Summit, held on May 20 with 'utility' at its core, offered a comprehensive look at what the platform has in store for users, partners, and brands. It also highlighted Snap's ambitions as a 'camera company' and its long-term vision for the camera, augmented reality, and 'computing overlaid on the world around us.'
Snapchat reaches over 500 million monthly active users (MAU) today and roughly 40% of its community is now located outside of North America and Europe. In the Middle East, its monthly addressable reach continues to grow substantially, now over 75 million unique Snapchatters - a 33% rise year on year as of March 2021.
Augmented Reality for Brands & Partners
Snap introduced new and improved shopping features and capabilities for brands and experiences for Snapchatters. Notably, the next generation of Spectacles, Snap's first pair of glasses that bring augmented reality to life, was also unveiled.
Scan goes to the home screen + Screenshop for e-commerce. More than 170 million Snapchatters use Scan every month and Snap is now adding Scan to its home camera screen. Scan matches what you see through the camera with relevant AR experiences.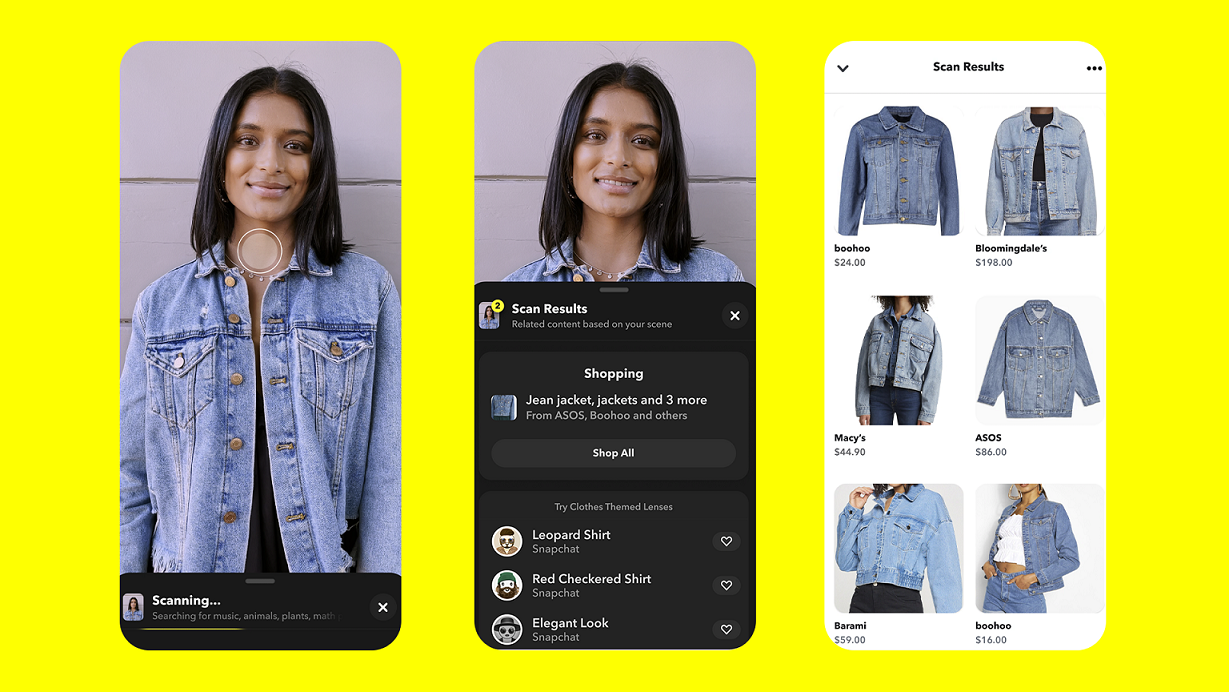 Major AR try-on upgrades. Apparel and accessories are the largest shopping category by far among teenagers. Snap is greatly upgrading its AR shopping capabilities, including new 'voice-enabled commands' that let you verbally control AR Lenses; new 'gesture-enabled controls' that let you physically signal Lenses to take an action; new 'wrist-tracking technology' that kicks off AR try-on for watches and jewelry, and much more.
Public Profiles for Businesses. Now, partners can establish a permanent presence on Snapchat to showcase their best AR Lenses and Stories — plus a 'Shop' page where Snapchatters can browse and buy, which turns Snapchat into a new organic point of sale. Eventually, Public Profiles will also enable businesses to integrate with Map, adding more reach across the core tabs of Snapchat.
Connected Lenses. For the first time, friends can interact with each other through Lenses, from across the room or across the world. For example, build a LEGO kit together, wherever you are.
API-powered Lenses. Brands can soon seamlessly build AR Shopping Lenses by simply uploading their product catalogs and 3D product assets through Snap's API in Business Manager. Snapchatters using these Lenses will get real-time product and pricing updates, and brands will see new analytics on Lens usage.
Lens Studio 4.0. Snap's AR creator ecosystem is booming, with 200,000+ Lens Creators around the world who have made nearly two million Lenses viewed by Snapchatters more than two trillion times. Lens Studio, which is free desktop software, adds 3D Body Mesh, Cloth Simulation, and a Visual Effects Editor that makes AR look and move more realistically.
Developers
Snapchat now has over 250,000 developers with Snap Kit, nearly 30 million people playing Snap Games every month, and now Map Layers.
Map Layers. This new feature layers specialized experiences from partners and Snap right on the Map. The Infatuation's Layer shows users great restaurants, Ticketmaster's Layer shows users which concerts are playing where, and the own Memories Layer shows users on the Map where they took their favorite saved Snaps.
Poshmark & Ticketmaster Minis + prominent new home for Games & Minis. The Poshmark Mini allows users to join daily shopping events and Ticketmaster Mini helps them browse shows and find friends to go with. Minis and Games can now be found in a more accessible 'tray' in the app, just by swiping down from the home Camera screen. This is where Snap Map was found before it was moved to a main tab.
Bitmoji partnership with Unity. Game developers can now bring Bitmoji into their mobile, PC, and console games, right through the Unity platform.
Sticker Kit. This new integration for app developers brings 34+ million Bitmoji, Stickers, and GIFs from Snapchat right into your app, and at your community's fingertips.
Creators
Story Studio. This new standalone app gives Creators a suite of intuitive, powerful editing tools to make professional content for mobile, on mobile. Use it to explore insights, like what's trending across Snapchat's Sounds, #Topics, and Lenses, and share videos right to Snapchat or anywhere else.
Gifting. subscribers can now send Gifts to official Snap Stars to kickstart conversations. Snap Stars earn a share of the revenue from Gifts, which are received through Story Replies and purchased in Snapchat Tokens.
Spotlight on the web. snapchat.com/spotlight is a new destination where Creators can upload video into Spotlight directly from Chrome or Safari, and anyone, even without a Snapchat account, can see the best of what's happening.
Creator Marketplace. Brands can use this new portal in the self-serve Business Manager to find and contact verified creators, starting with top AR Lens Creators and, in the future, Snap Stars and Creators on Spotlight.
In addition, Snap introduced a new, multi-year partnership with Re:wild, an organization that protects and restores the wild and that's reimagining what a conservation movement can look like. The company also recently announced plans to make Snapchat more inclusive, working with several noted directors of photography from the film industry to learn techniques they use to best capture actors with darker skin tones. At this Summit, it announced that these features will become available in Camera Kit, so developers all over the world can easily make their cameras more inclusive.