At the end of each month, we, at Netizency, study the popular conversations happening on social media and online platforms across the Gulf to highlight the most relevant trends and analyze the discussions that have gained momentum. To do so effectively, we've identified a group of keywords in Arabic and English that define conversations based on the region's most relevant industries. We then classify them according to the volume of mentions and analyze the topics of conversation across social and online media between the first day of the month to the last.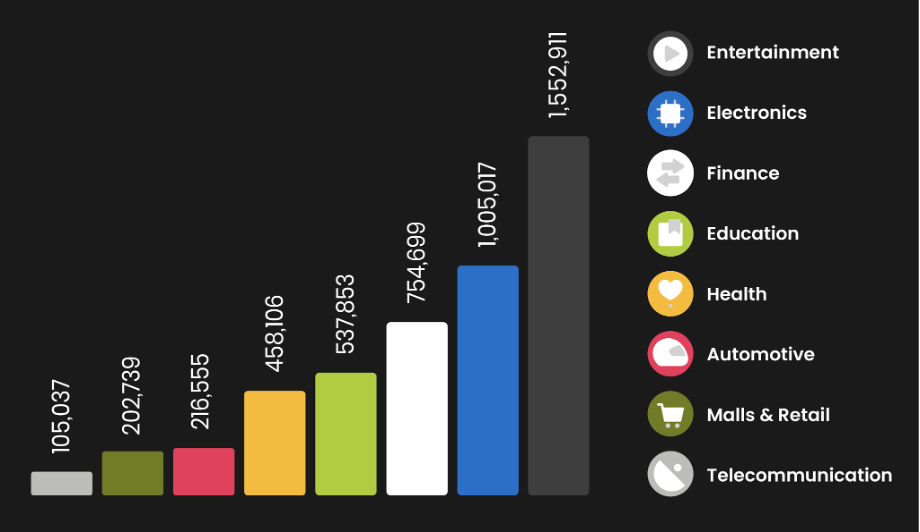 In June, the categories' rankings underwent quite a noteworthy shake-up. Entertainment took the lead, surpassing Electronics, which now holds the second position. Finance moved up from fifth to third place for the first time in over a year, pushing Education to the fourth rank. Following in order are Health, Automotive, Malls & Retail, and Telecommunication.
There's no doubt that your social media feeds were flooded this month with posts about OceanGate's Titan, the Titanic, Hajj, Eid al-Adha, Father's Day, Egypt's shark attack on the Russian tourist, and summer vacation. These stories were all over the internet and impossible to miss! But if you thought that was the end of June's trending topics, think again! Let's dive into the key stories that shaped the online chatter in the GCC this month across the top three categories: Entertainment, Electronics, and Finance.
Top Themes
Entertainment
Football aficionados, our first story is for you! The Entertainment dashboard witnessed a spike following the news of Karim Benzema's move to Al-Ittihad in Saudi Arabia. Passionate users heavily shared all the updates on #Benzema2Ittihad along with videos covering his grand reception at Al-Jawhara Stadium of King Abdullah Sports City in Jeddah. The event was attended by over 60,000 enthusiastic supporters of the football club. The flood of comments on relevant posts revealed the immense pride of Saudis in their country's ability to attract top-notch players like Benzema and even Cristiano Ronaldo, who recently joined Al Nassr FC, cementing Saudi Arabia's position as a true football industry disruptor globally.
The Barbie movie stunts have also taken over the internet, leaving a trail of pink in their wake. From Barbie-themed Xbox consoles to Airbnb's Barbie Dreamhouse stay in Malibu, it is clear that the brand's marketing team has reached new heights of hype-building mastery, with clearly zero budget restraints! And with that obviously comes the plethora of memes and posts that we are always excited to sniffle through. One interesting story that sparked humorous responses from the GCC community was the revelation that the movie had caused an actual global shortage of pink paint due to its extensive use in its sets (talk about leaving a colorful impact!). We've also come across content from VOX and Novo Cinemas posting countdowns to thrill their fans about its upcoming arrival. But amidst all the excitement, there was some drama too! The #NotMyKen controversy emerged as some fans took to social media arguing that Ryan Gosling is too old to play Ken. Gosling's response to the backlash was cited by many users and news outlets, where he said, "If you don't want to play with my Ken, there are plenty of others to choose from." Besides that, it is safe to say that the movie's anticipation has hit a fever pitch as reflected in the sheer volume of mentions including trending TikTok filters we've seen (and continue to!) this month.
June also unfolded as a gamer's paradise, brimming with thrilling events that set the gaming community on fire. The Summer Game Fest 2023 kicked things off, grabbing the spotlight with major announcements and reveals. Gamers in the GCC eagerly shared trailers, recaps, and reviews of the showcased games, including The Lost Crown, Final Fantasy VII Rebirth, Spider-Man 2, and more.
Next in line was the Dubai Esports and Games Festival, which specifically ignited conversations among UAE-based users. The buzz around the five days of action-packed events was amplified by the likes of Dubai Media Office, Dubai Police, Expo City Dubai, du, and others who actively posted about the festival, further fueling the momentum. The anticipation continued to mount for Gamers8, the upcoming Saudi esports festival set to take place in July. The festival promises a fantastic lineup of concerts, esports competitions, panel discussions, workshops, and community gaming activations. And you know what that means — lots and lots of online chatter! Notably, ticket sales for Rabeh Saqer's concert, the first scheduled performance at the gaming festival, garnered numerous retweets. So this month was truly eventful for gamers, filled with thrilling experiences and plenty to talk about.
Let's now move to the second top category for this month and see what shaped the conversation spikes there.
Electronics & Technology
Unsurprisingly, Apple once again emerged as the leader in the Electronics and Technology realm as users in the GCC were extensively posting about WWDC 2023. The annual developer conference unveiled an array of releases, such as the 15-inch MacBook Air, Mac Studio update, iPadOS 17, and new iPad features, among many others. However, GCC users specifically took an interest in the arrival of Apple Vision Pro, lauded as the brand's first groundbreaking spatial computer. Tech influencers posted reviews and first impressions vlogs, highlighting Vision Pro's ability to seamlessly blend digital content with the physical world, enabling users to stay connected while remaining present. Equally captivating, iOS 17 gained traction for its family-friendly Check-in feature, allowing users to notify friends and family of their safe arrival at a destination. Furthermore, hardcore tech influencers dwelled on other noteworthy updates introduced in iOS 17, including improvements to communication apps, easier sharing through AirDrop, enhanced text input capabilities, and new experiences with Journal and StandBy, among others.
Google has also made a notable appearance in this category's discussions this month, with posts focusing on its latest feature and updates. Among the news that picked momentum is Google's decision to remove Canadian news articles from its search engine following the passage of The Online News Act (Bill C-18), a new law aiming to regulate internet giants and assist the Canadian media industry in recovering financial woes. Additionally, content about Google's new enhancement to its image recognition tool, "Google Lens" has gained traction. The new feature allows users to describe various skin conditions and obtain initial diagnoses by searching for similar images online. While Google emphasized that it doesn't substitute medical advice, users in the GCC praised this innovative advancement and sought tips on utilizing it.
Galaxy Unpacked 2023 also emerged in this month's top word cloud of this category. Driven by Android fanatics, we've seen posts announcing the upcoming conference that is set to take place at the end of July in Seoul, South Korea. The discussions have been buzzing with anticipation, particularly surrounding the potential models set to be unveiled, including Samsung Galaxy Z Fold 5, Galaxy Z Flip 5, Galaxy Tab S9 series, Galaxy Watch S6 series, and Galaxy Buds 3. @SaudiAndroid, @Andro_Arabic, @TariqAljaser, and others emerged as the key influential figures prompting the conversation, enthusiastically tweeting news and leaked images of these soon-to-be-revealed devices. However, amidst the buzz, we've seen negative sentiments creeping in as some users expressed concerns about Samsung's lack of creativity or deviation from previous models.
Up next: What's trending across the Finance conversation?
Finance
As mentioned previously, the Finance conversation made a significant jump from the fifth rank in May to claiming the third spot this June. This spike was driven by several noteworthy events, and here are some of the highlights.
The New Global Financing Pact summit held in Paris became a major catalyst for the Finance discussions this month. This high-profile event brought together world leaders and finance executives for two days, with a focus on addressing climate change, and poverty and forging a new agreement between affluent and less prosperous nations in alignment with the current climate state. Analysis articles, recap posts, and videos featuring speakers deliberating key topics that dominated the discussions surrounding the summit. Interestingly, average users also contributed to the chatter — but in their own, unique way of course! To clarify, there was a significant number of retweets from users in Saudi Arabia, showcasing videos capturing the arrival of Saudi Crown Prince Mohammed Bin Salman at the summit, which garnered admiration from the community. Additionally, users in the UAE displayed significant interest in HE Dr. Sultan Al Jaber, who spearheaded the Climate Finance Reforms at the summit. They actively retweeted posts featuring him at the event and left comments reflecting their admiration, pride, and support for his achievements.
The announcement of the return of Abu Dhabi Finance Week 2023 (ADFW) sparked a surge in Finance discussions this month as well. Under the patronage of H.H. Sheikh Khaled bin Mohamed bin Zayed Al Nahyan, the second edition of ADFW is set to take place in November. With this year's main theme being 'Investing in the Transition Era,' the conversation primarily revolved around the event's mission to foster collaboration on capital flows, monetary systems, and global financial impacts during this transitional period.
Bank Albilad also attracted attention in June after announcing its achievement of successfully completing the technical permit requirement and becoming the first Saudi bank to provide Open Banking Services. There was widespread coverage in mainstream media, with interested users responding positively and commending the bank for its dedication to enhancing innovation within the digital banking and fintech sector.
That wraps up our June monthly roundup. But you can always get the freshest trends and social media news delivered straight to your inbox every week by subscribing to our newsletter here.