Market research company Global Web Index (GWI) has shared a new guide that provides insights into the essential changes in consumer behaviors and attitudes and the steps brands can apply to attract their attention in the post-lockdown world. But first, let's lay the groundwork- the majority of the countries went into lockdown since mid-March. Since that period, the consumers' way of living took a change almost overnight, and gradually new habits were formed as a result. Let's understand what those habits are –
Almost one in two consumers are doing more online shopping and the enthusiasm for it continues to grow.
Consumers are craving more reliability and convenience.
Older people are consuming more media.
Three in four people were engaged in physical exercise during the lockdown.
Safety is on top of mind as consumers plan to be more risk-averse.
Over 95% of consumers are spending more time on in-home media consumption/activities.
Smartphone usage continues to climb.
They're giving out-of-home leisure spending more consideration.
Knowing Where To Pivot and Why
2020 so far has been a year of rapid and fluctuating change. Consumers are facing a new reality – and with this, they've got new priorities, new fears, and new expectations from the brands in their lives. According to the guide – these are the biggest trends that are most likely to continue.
Sustainability will keep growing in importance
According to the data, three in four people believe it is important for companies to start behaving more sustainably.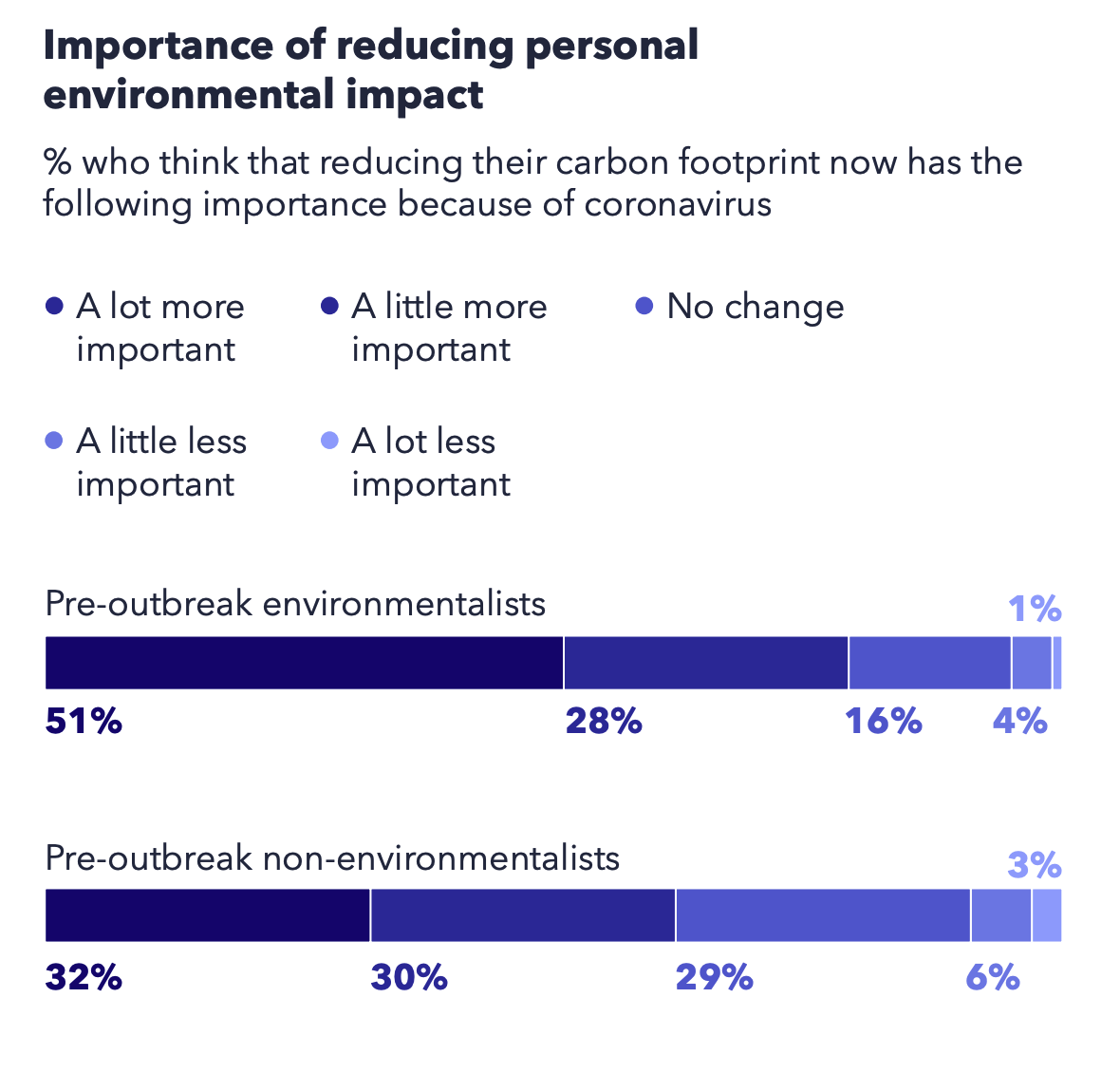 Travel habits will continue to change
51% of respondents globally have delayed vacation purchase due to the current situation.
When asked what types of vacation people intend to take in the next 12 months, domestic vacations and staycations in the local area top the list, scoring considerably more than short-haul foreign vacations or long-haul ones.
Consumers are reassessing their personal finances
In response to the outbreak, 90% of respondents globally are planning to change their behavior when it comes to their personal finance.
Globally, around 4 in 10 plan to cut back on their day-to-day spending or are looking to reduce their regular financial commitments (e.g. cancel subscriptions, memberships, etc).
Nearly half of Gen Z expect to dip into their savings.
Online shopping will continue to see a big boost
46% plan to shop online more after the outbreak (+3% since April).
Free delivery is the single biggest motivator for global consumers when online shopping, with discounts and customer reviews taking second and third place.
Generation spotlight: Brand approval among Gen Z and Baby boomers
The global situation is complex, and so are the consumers at the heart of it. That means a general view isn't enough. It's important to understand what each generational split wants/expects from brands and how these expectations have changed throughout the outbreak.  Here are the key insights from the youngest generational split, Gen Z, and the oldest, Baby boomers.
Endeavors like running COVIDrelated advertising, providing practical information, and providing entertaining content have all enjoyed high approval ratings across the generational splits – and have held steady throughout the pandemic.
78% of Gen Zers approve of brands getting in touch about how they responded to the outbreak but this has reduced as the months passed.
Boomers are 1% less likely to approve on the same point than they were in late March / early April.
Rethinking Your Marketing 
The post-pandemic consumer world may never look like how it used to. That's why the brands that were committed to adapting to their consumers during the various stages of global lockdowns will see the benefits of these efforts for years to come.
Any brand looking to retain customers must do the exact opposite of minimizing spending – investing in your audience and carefully tracking them throughout the pandemic. Staying close to your target audience will ensure you strengthen your connections with them, rather than disappear during a time of crisis and there are plenty of ways to do it.
The digital and new media mediums have gained a big push during the lockdown. GenZ and Baby boomers discover new brands through these mediums as opposed to the traditional ones.
2020 will certainly be remembered as a tragic, strange, and life-changing time. And with so much uncertainty, it's more important than ever to learn and adapt. While it may seem obvious, customers are adjusting to tremendous changes, and accepting them, you might not know them as well as you did is the first step towards reforging deep relationships. Using granular, regularly-harnessed data is one way to take back that control – putting your spend where it counts and keeping your customers loyal until life slowly gets back to normal.