Reasons why you need a strong mobile strategy for Gen Z
Gen Z is the mobile generation
Gen Z has never known a world without the internet, and their first phone was likely a smartphone.
Gen Z is growing in influence
As one of the youngest generations, Gen Z now amounts to a third of the world's population, surpassing millennials as the largest generation.
They control an estimated spending power of $143 billion annually and influence an estimated $600 billion in spending.
Gen Z has different expectations
Gen Z places value on access rather than ownership.
Mobile has given them the platform to interact with brands on their own terms.
What worked for previous generations will not work for Gen Z, and this generation is establishing mobile habits early and rapidly.
Using App Annie's demographic data, here are the key actionable insights from the report listed below –
Growth of Gen Z users outpaced those 25+ in most markets, highlighting growing influence of Gen Z
While the growth of Gen Z active users differs by market, it's rising faster than that of older active users (aged 25+) across most markets analyzed.
Mobile-first emerging markets like Indonesia (40%) represent many of the fastest-growing markets for Gen Z mobile users. However, the largest growth differential between age groups was in the US, where Gen Z MAU grew nearly 2x more than those 25+.
While Gen Z is more likely to use games, they spend less time on top games than those age 25+
For Gen Z, engagement in non-gaming apps is deeper: they have 20% more sessions per user on top non-gaming apps than older groups, with 120 sessions per month per app, and spend 10% longer time at over four hours per app per month.
While both age groups spend more time per month on gaming apps, there is a starker contrast between the age groups. Those 25 and older spend nearly 20% longer in their most-used games, and access them 10% more frequently.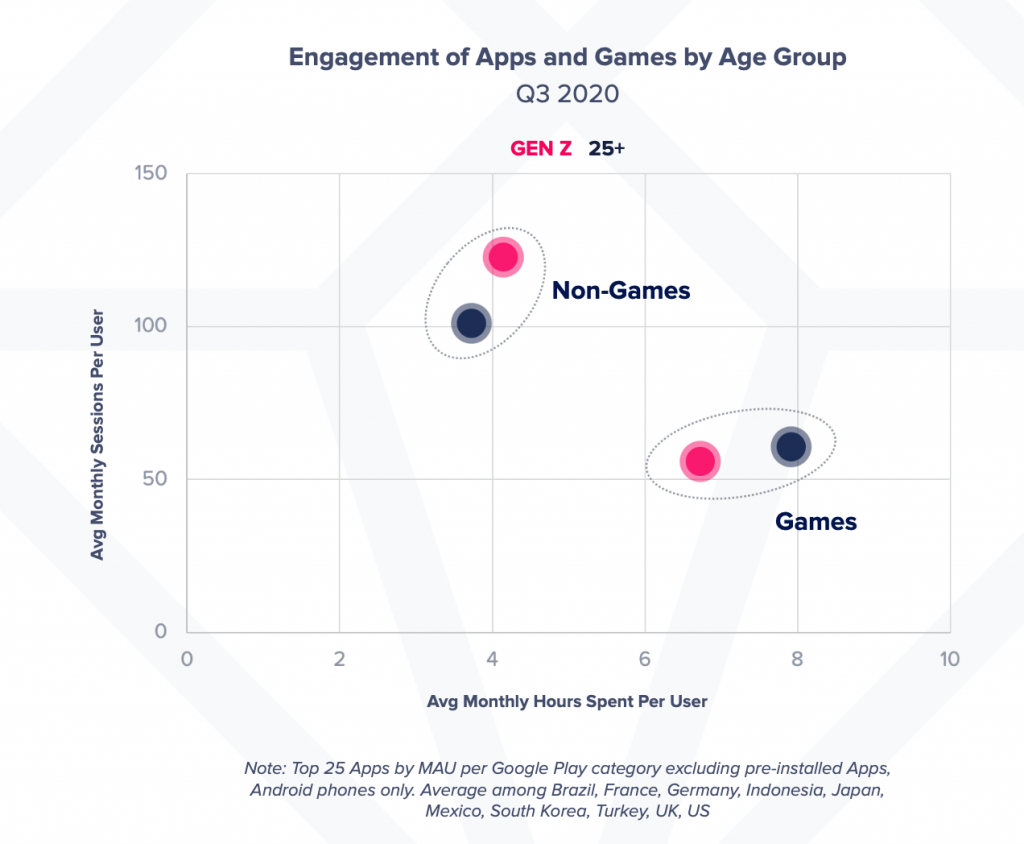 The Gen Z rocket ship: mobile usage blasts off
There are opportunities in many industries and markets to reach Gen Z, and mobile data will show you where these are.
Finance and shopping apps haven't managed to reach a broad Gen Z audience, but these categories have experienced strong growth YoY and represent a promising area for investment.
Apps in categories that are already highly relevant to Gen Z can be excellent partners to help you increase engagement, including social, entertainment, and comics.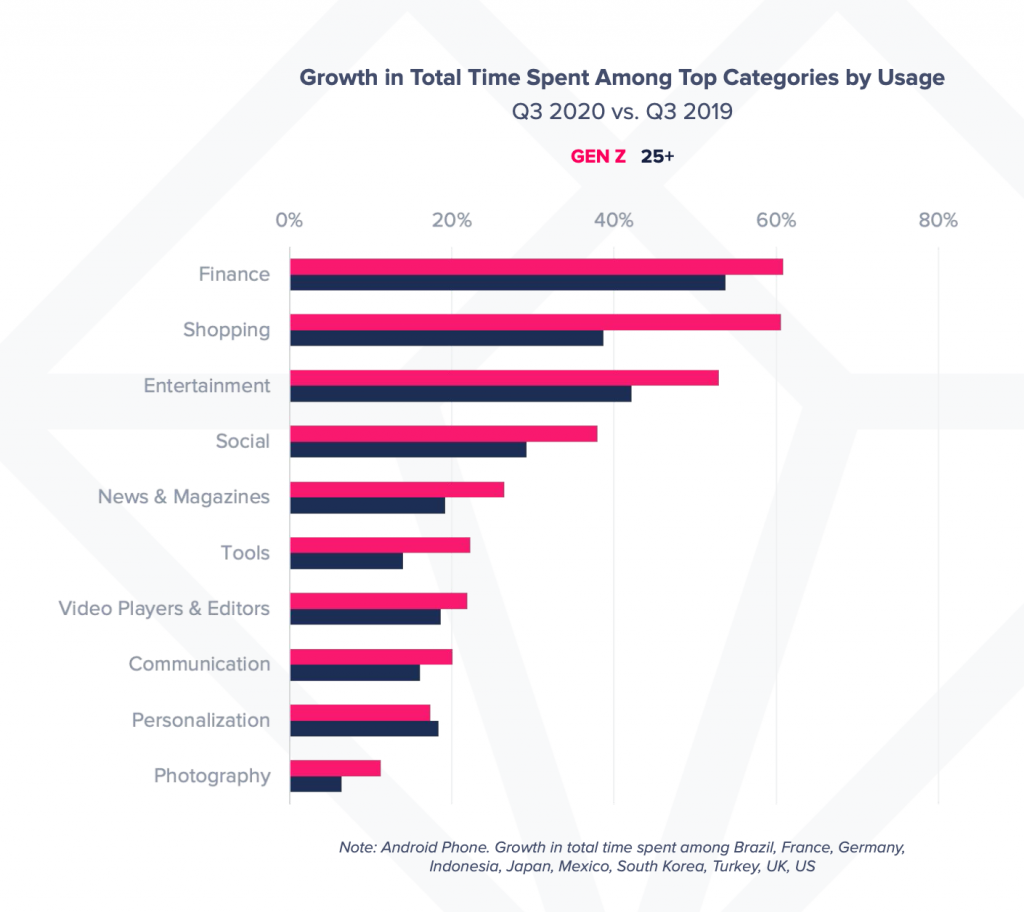 Not a one-size-fits-all: Gen Z behavior differs vastly by market and requires a closer look
Gen Z users in Japan spent almost 1.5x the number of sessions per month in their favorite gaming apps than the global average — the most among markets analyzed. In contrast, Japan is among the lowest in terms of time spent and frequency in non-gaming apps.
Gen Z Is a mobile and video first generation
TikTok and Snapchat stand out as the top over-indexed app among Gen Z in nine out of 10 the markets analyzed for social apps, showing how important a video and photo-first strategy is for engaging Gen Z, along with creative elements like avatars, filters, and ephemeral messages.
Discord has seen very strong growth, particularly in France, another indication of how mobile is the epicenter of social interactions. In-person gaming sessions with friends have increasingly been displaced by remote play while chatting through a mobile app.
Convergence of gaming, Live streaming and social sharing define Gen Z's entertainment habits
Twitch is the top over-indexing app among Gen Z in six out of 10 of markets analyzed. Twitch use cases have branched out beyond gaming to reach Gen Z, including streaming interactive podcasts and cooking shows. While its popularity is not unexpected, as video game and eSports streaming were popularized by this demographic, counting most of their top influencers among their ranks, it is not universal.
Among Us! became a Gen Z favorite
Casual arcade game Among Us! was the third most-played game worldwide, driven largely by the surge of game streams on Twitch and its unique team-based multiplayer gameplay — indicating the appeal of games with strong social mechanics among Gen Z.
Over 80% of the top games analyzed in each market in each market analyzed skewed towards Gen Z users, highlighting the gaming space as essential viewing for potential partnerships.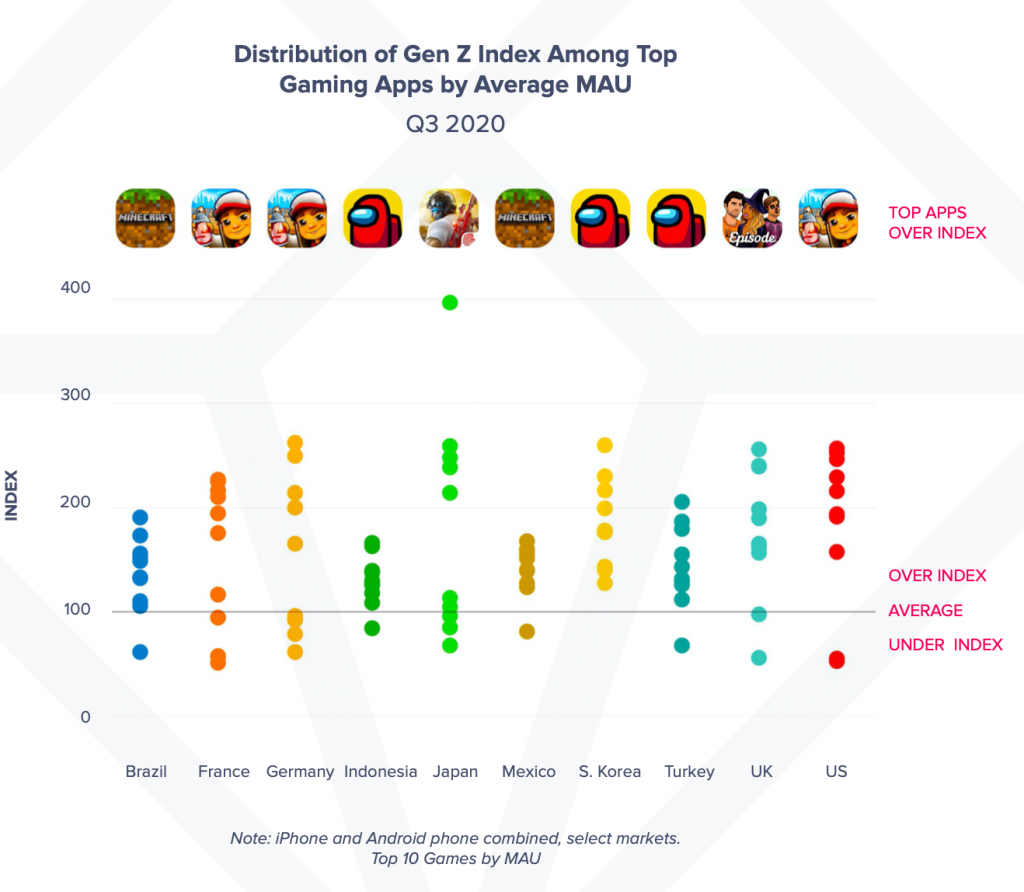 Area of opportunity: Finance apps gained momentum, but have room for growth
Very few Finance apps over-index on Gen Z, with non-banking apps taking the top spot in many markets. This is an opportunity for mobile-first banks to capture Gen Z as they begin to look for banking options in the future.
Traditional banks need to act strategically; unlike previous generations, Gen Z often encounters fintech like Venmo, Monzo and DANA, or even branchless banks, before traditional financial institutions.