AppsFlyer released its State of Gaming App Marketing for 2023, an in-depth report on key gaming trends for app developers, marketers, and game studios to utilize as they navigate through a year of challenging macro trends, including the new age of data privacy.
As the post-Covid era unfolds, a digital slowdown, or return to pre-Covid conditions, is taking place. While the effects are becoming increasingly apparent in metrics like overall app installs by consumers, the gaming app economy still showed resilience with nearly $27 billion invested in ad spend by gaming marketers and developers worldwide in 2022 in order to acquire new users. Overall, Android game app installs rose slightly, by 8% compared to 2021, whereas iOS game app installs showed a small decline, with a 5% drop. Based on advertising investment, the United States remains the largest target market for gaming app marketers by a significant margin, followed by Japan, South Korea, Germany, and the United Kingdom.
"If 2021 and the first quarter of 2022 were the golden age of gaming, the second half of 2022 and especially 2023 will be a time that marketers, developers, and studios will need to overcome challenges to adopt highly-focused, efficient strategies for attracting and inspiring loyal, valuable players," said Shani Rosenfelder, Director of Market Insights at AppsFlyer. "Evolving marketing budgets coupled with drops in consumer spending across some genres mean game businesses are compelled to prioritize profits over growing the sheer size of their numbers of players. Despite the hurdles, however, mobile gaming remains a lucrative powerhouse nearing three billion players globally. Marketers will continue to succeed by putting more focus on modern measurement capabilities, utilizing techniques that deliver an engaging experience while respecting user privacy, and leveraging remarketing and owned media channels further in order to offset increases in their cost-per-installs (CPI). Additionally, they will need to dive deep into the complex yet promising SKAN 4.0 from Apple, and invest more in campaigns outside of the United States, as gaming is truly a global phenomenon."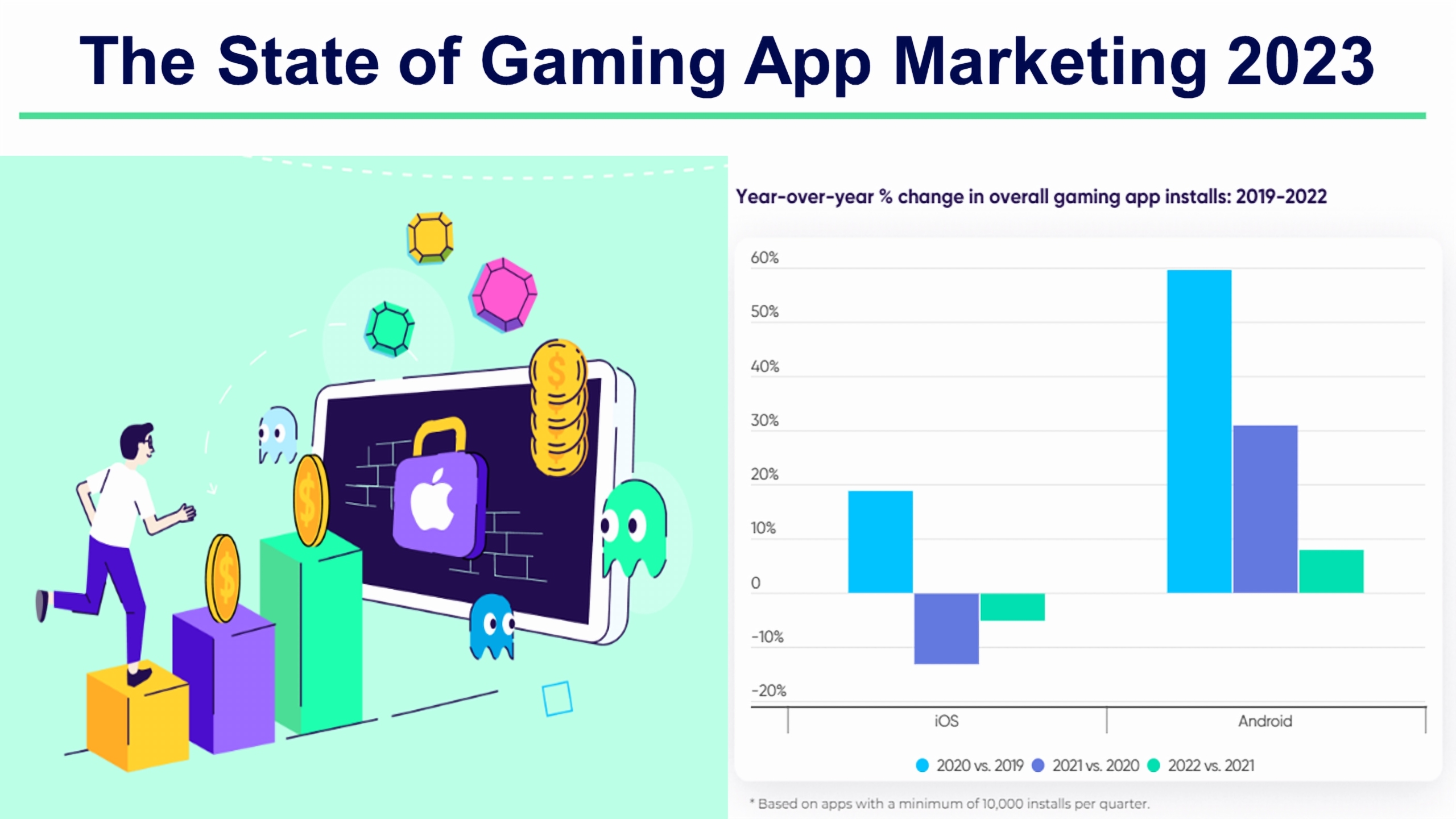 As for gaming app revenues, the State of Gaming report reveals that consumers spent the most on in-app purchases (IAP) in role-playing and social casino (not real money) games. Purchases in these game categories declined mostly in the second half of 2022, leading to an overall drop in IAP revenues by 7% compared to the first half of the year. The economic downturn appears to have impacted consumer behavior in high IAP genres of role-playing and social casino more than other categories like match or puzzle games, which rely more on micropayments. In-app advertising (IAA) remained the strongest driver of revenues for hypercasual, match and simulation games, though IAA revenues also declined across most genres towards the second half of 2022.
Key Insights
$26.7 billion total gaming app install ad spend worldwide in 2022. The US commands nearly half at $12.2 billion thanks to its high-volume and high-cost media landscape; Japan is a distant second with nearly $2 billion in spend.
Worldwide, Android game app installs rose slightly in 2022, iOS game app installs showed a small decline. There was an 8% YoY growth in total app installs of Android games. A -5% YoY install drop on iOS reflects the continued challenges iOS app marketers are facing following Apple's privacy changes (despite the improvement vs the previous 2022-2021 YoY figure of -13%). In the US, still considered the most important market for gaming app marketers, 2022 saw a 19% growth in Android app installs and -1% decline in installs of iOS gaming apps when compared to 2021.
The second half of 2022 in particular was a struggle for in-game purchases with the economic uncertainty in the market. There was a -7% overall drop in in-app purchase (IAP) revenue in H2 2022 compared to H1 2022, with iOS down 9% and Android down 4%. Overall, in-app purchases on Android gaming apps were down -14% YoY, while iOS was down -1% YoY. This was driven largely by a decline in role-playing and casino game genres that typically have high rates of in-app purchases, and where the economic downturn appears to have impacted consumer spend.
Categories that saw the largest growth in 2022 vs. 2021: 48% growth rate for Android casino games, 3x more than second-place hypercasual and 5x higher compared to the growth rate in puzzle and role-playing games (RPG). Casino games led growth on the flagging iOS side, clocking an impressive 17%.
Cost-per-installs on iOS continue to climb. 88% is the increase in CPI on iOS from Q1 2021 to Q4 2022, shooting up $3.75 per install as iOS marketers continue to accept high prices to acquire valuable Apple users. YoY rates show a 35% jump.
Marketers increasingly leveraging owned media channels. As marketers look to get more value out of their budgets, the use of owned media strategies such as push notifications, in-app messages, and cross-promotion is seeing a sustained rise. This has led to a significant YoY increase in the number of owned media conversions, with a 16% growth on iOS and a 34% surge on Android.
"As gaming marketers continue to navigate their way through a shifting economic landscape along with privacy changes, particularly on iOS, they face fresh challenges and opportunities in regards to their app marketing efforts," said Adam Smart, Director of Product, Gaming. "Privacy restrictions on iOS limit the ability of marketers to leverage user-level data, which was previously the cornerstone of their ability to connect campaign performance to attracting new users. Yet, despite a significant rise in media costs and measurement challenges, gaming apps are still investing heavily in capturing high-quality players on iOS and are not shifting those resources to Android, even if the approach results in attracting fewer users overall. This gives greater importance to the use of privacy-enhancing tech and data clean rooms in 2023 and beyond, and will also provide advantages to those able to leverage accurate and comprehensive data for making the timeliest decisions on where, when, and how to optimally invest budgets in ways that attract and retain the most valuable players."
Read the full report here.