The Cresta Awards have announced their 2022 winners, with Middle Eastern agencies making a strong showing.
347 shortlists were initially announced from the globe and converted into 222 awards. Of the 58 shortlists from the region, 36 trophies were awarded.
Impact BBDO won a Grand Prix for Innovation in Print or Out of Home with "The Elections Edition," a campaign for AnNahar Newspaper - one of the only five Grands Prix given globally this year and the only one from the Middle East. This campaign also won a Gold in Ambient & Experiential.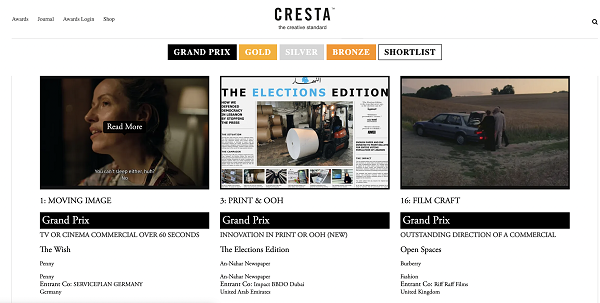 Horizon FCB Dubai converted all of its 8 entries into trophies, all for its "Breaking Chains with Blockchain" work, done for the Children of Female Prisoners' Association. These wins include 4 Gold in Digital Craft, Creative E-Commerce, and The Future categories; 2 Silver in the 'Wish We Had Thought of That' and the Media Magic Award categories; and 2 Bronze in the Direct category and The #OMG Award.
Saatchi & Saatchi ME grabbed a Gold in Creative Strategy, a Silver in Media Magic, and 4 Bronze in the Ambient & Experiental, 'Wish We Had Thought of That," and Creative Effectiveness categories for "The Empty Plates" campaign, done in partnership with the UAE Government Media Office.
The UAE Government Media Office itself won 2 Silvers, one in the Influencers Campaigns and the other in the Creative Strategy categories, as well as a Bronze in Direct for "The Donation Plate," on top of 4 Bronze for "The Warm Winter Livestream" and 2 more Bronze for "The Visitor of the Future."
Leo Burnett Riyadh and its "Time to Redecorate" work for Ikea received 4 Silvers and 2 Bronze in the Print Craft, as well as 3 Bronze in Print & OOH, while their work on "Don't Sleep on It," for Ikea as well, grabbed Silver in the Media Magic Award.
Lastly, the Film House Qatar received a Bronze in Brand Content for "Unparalleled," done for the Doha Forum.
Cresta has been showcasing and benchmarking exceptional creativity since 1993. The online festival attracts work from over 70 countries and from many of the global industry's most respected creative companies. Entries cover a wide range of skills, from the very latest digital and technology-based creative communications to more traditional areas in advertising & design.
The work is judged by a carefully chosen world-class jury of more than 120 senior industry leaders, who vote independently online to establish benchmarks for global creative standards.
The special Jury Chair Award is yet to be announced and will be chosen by this year's jury Chairperson, Ali Rez, Chief Creative Officer at IMPACT BBDO.
See the full list of winners here.