By Michaela Branova, lead data analyst at Socialbakers
Over the past two years, Facebook has introduced new ways of delivering content with video being brought to another level with FB Live as well as 360° spherical videos. Spherical content is not only available for videos but, since June, also for photos. In this article, we'll examine how spherical content performs in comparison to traditional videos and photos and how much brands have adopted the new format over the past year.
Only 6% of large brands post spherical content on a monthly basis
The monthly adoption of spherical content among top brands is only around six percent. In comparison to media publishers, the adoption is twice as low. On the other hand, the adoption has been increasing since 2016 with only one percent of large brands were posting spherical videos at the beginning of 2016. The adoption increased even more in June 2016 when spherical photos were rolled out.
Spherical content performance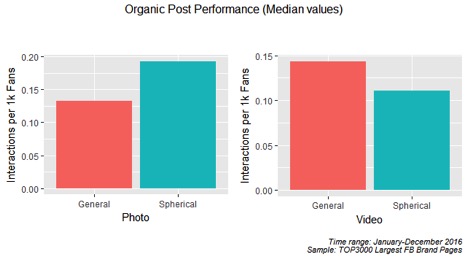 If you see spherical content on Facebook, it's more likely to be promoted than organic. More than half of 360° videos analyzed were promoted, and with non-spherical videos, this number was less than one-third.
The chart above shows how spherical content performs in comparison to general photo and video posts. We analyzed posts by largest brand pages that posted at least one video and/or photo in the past year. The output shows that organic spherical photos receive 45 percent more engagement than classic photos. The reason could be the level of additional experience that users get from spherical photos. Spherical organic videos received 20 percent less interactions than general video posts. We need to bear in mind that the format is not yet fully adopted and the storytelling factor is limited here. General videos can tell a more sophisticated story and attract users with more advanced production.
Usage across industries, Travel takes the lead
It has been the travel sector that has adopted spherical content the most. More than half of large accommodation, airline and travel agency pages examined posted at least one spherical post in 2016. Auto and electronics pages have been experimenting with the new formats to a similar extent, while the Beauty and Fashion sector – that dominates in user engagement on Instagram – has the lowest adoption out of industries compared with approximately 10 percent of pages posting at least one spherical content in 2016.
While auto brands seated users in a car and let them experience a race, airline companies took them to different destinations or showed them a cockpit. GoPro was telling fairy tales with spherical videos as well as taking users for a trip to save a species from extinction. Dior introduced its new collection in a 360° couture show. Guinness proved that spherical content can be linked to CPG products in a creative way when they produced a video that shows you how it feels to be inside a pint.
Conclusion
It has been discussed for some time that VR is the future of social content. While the general content format report only on stuff happening somewhere out there, spherical content takes the user into the situation and allows the user to experience that. This increases users' motivation to interact. While spherical photos significantly outperformed photo posts in 2016, spherical videos were slightly less engaging that general video posts. Brand adoption of spherical content is still low in comparison to media publishers out there. Nevertheless more and more brands are experimenting with this format and we can expect that the adoption will increase in 2017.