Corporate and retail banks are facing a period of change and innovation prompted by competition from inventive business models and non-finance competitors. Innovation is crucial to growth and new examples of banks adopting additional services in response to this changing market environment are beginning to emerge. One service on offer is banking via a new channel: a social banking app. Could social be the future for financial services?
Historically banks innovate slower than other businesses mainly because they are challenged with complex implementation procedures and slow rollouts. However, due to shrinking margins and stricter regulatory requirements the pressure is on banks to develop new products, services and channels for their customers. The future of financial services, as with many industries, is being driven by technology.
An important point to make about innovation in banking services is that it is processes – not necessarily products – that need to be used to innovate. Banks are focusing on improving the user experience for customers and one obvious channel to do this on is social media. The numbers say it all – over 1 billion users on Facebook and 284 million users on Twitter with 80 percent using their smartphones. There is a small selection of banks currently using social media to provide a banking service for their customers. Below are some examples:
DenizBank, Turkey: Created a Facebook banking app that enables users to transfer money and keep an eye on their accounts 24/7.
The Commonwealth Bank of Australia, Australia: Extended its Kaching app to Facebook, facilitating payments to friends, money transfers and access to account information.
ICICI Bank, India: Allows users to pay friends and track group expenses via a Facebook app.
The Commercial Bank of Dubai, UAE: This is first social media branch on Facebook in the Middle East and Africa region. The social branch is available on desktop and mobile, enabling customers to make transactions and pay their bills on the social network directly.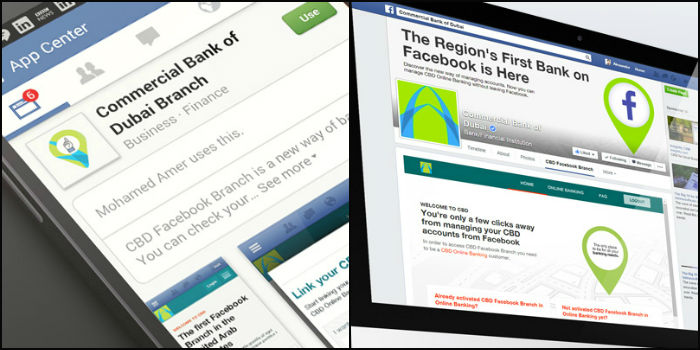 There is a multitude of reasons why banking on social media will become a beneficial experience for banking customers. First of all, customers are customizing their individual experiences with everyday technology and want to be offered several communication channels so they can choose the best option for themselves. Currently, it seems that micro payments and instant access to financial services are some of the incentives customers are looking for but they want these to be fully integrated into their lives, or more importantly, the routine of their everyday lives.
Routine and user experience encompass the second reason why a Facebook bank branch will work. According to research conducted by The Commercial Bank of Dubai, typically, most Facebook users check their phone within the first 15 minutes of their day and then an additional four times, on average. By enabling customers to check their bank account through Facebook, banks are slipping naturally into a habit already formed by their customers. This seamlessly helps customers kill two birds with one stone, and they can also keep checks on their spending more effectively. By making banking as much of a habit as Facebook, banks will enable users to become more responsible when it comes to tracking, monitoring and spending their money. Banks need to provide the tools for these new experiences in order to create a demand and satisfy customers about their banking proficiency.
The last reason social banking will be a beneficial service for both customers and the banks themselves is content personalization. By creating custom cross channel experiences for customers, banks can collect data on their customers that will allow them to tailor services and experiences to each individual based on interest, products that fit the life stage of the customer and so on. For example, advertisements can be targeted towards a particular segment like students. The targeted messaging and tailored product offerings for each specific customer segment can help to increase the closing ratio.
Is social the entire future of financial services? Not likely – at least not yet. Complex processes such as taking out a mortgage will still be a process that customers will have to fulfil face-to-face but the key lesson here is that banks need to consider different channels to support customers. Take the iGaranti mobile app for the Garanti Bank in Turkey. This Siri-like virtual assistant guides customers through various systems online so they can achieve goals from the comfort of their home. This virtual assistant is being launched in banks in Spain, the UK and the USA – another example of an innovative channel created to benefit the customer. Innovation in banking should focus on making a positive change in the customer's life by offering new ways to interact with the banker and this can happen on many platforms, not just socially.