By Jeraldine Phneah, account manager, Socialbakers
A 2016 CMO Survey by Duke University's The Fuqua School of Business indicates that marketers plan to double their spending on social media in the next five years. Yet, many brands and agencies fail to understand the fundamentals of social and how it can fit into their broader marketing strategy. Some have even given up on organic strategy and decided to use Facebook solely for paid advertising rather than a means to build digital relationships with their audience.
This disparity often results in wasted time, effort and even money for brands and agencies. A Socialbakers study which analyzed 400, 000 posts over a four-month period identified that poor content had 2.3 times fewer interactions with the same reach and 4 times more negative feedback. The negative impact was amplified when these posts were boosted as ads with a poor relevance score incurred 40 times higher cost per click (CPC).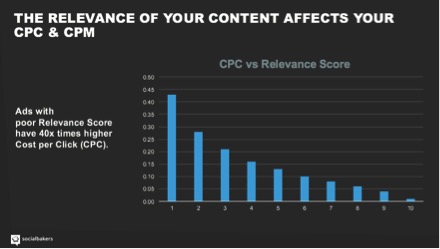 To optimize one's social performance, it is important to first understand how the Facebook Newsfeed actually works.
According to Robert Lang, CEO of Socialbakers, recent Facebook platform changes seem to point in one direction: to maximize users' time spent on Facebook. All the new features released in 2016 such as instant articles, native videos, live videos, 360 video and canvas ads are designed to keep users on this platform for a longer period of time.
Similarly, the Newsfeed has also been designed with the same purpose. By displaying the most relevant and engaging stories at the top of the Newsfeed, the audience will keep scrolling to discover more. By prioritizing quality content which is highly relevant, Facebook ensures that users stay for longer on the platform and that advertising revenue continues to stream in.
This leads us to the question. What are the factors that ensure content ranks highly on the Facebook Newsfeed?
Engagement
According to Facebook, the overall goal of the platform is to feed engaging, relevant content to its users. Posts are prioritized if they are related to the user's interests, if they engage people in broader discussions and if they contain news about the world around them.
One of the key factors that demonstrate the relevance of a post is the engagement rate. For instance, if you posted something in the morning and yesterday someone else posted another post that garnered a higher number of interactions, chances are the user will see the post with more interactions first, even though your post is more recent.
However, if both posts have high levels of engagement, then Facebook will prioritize posts of immediate interest at any given moment. For instance, it will temporarily upgrade posts that relate to currently trending topics or post which are currently garnering higher levels of engagement over those that might have gotten a flurry of engagement several hours earlier.
When creating content, marketers need to be asking themselves two important questions: Why would people want to engage with this post? What is the best time for me to post my content to ensure maximum reach and engagement?
Time spent on the post
Another important factor affecting how well your content ranks on the Facebook Newsfeed is tied to the time users spent on reading a certain piece of content after clicking it.
This metric was introduced as Facebook figured out that content which people 'like' before reading is generally not as relevant as content that's been liked after reading. This is because if you've taken the time to read something and then liked it, that's a more considered judgment of quality than a knee-jerk response to a headline. Thus, content that's liked after reading is given a bigger boost in the News Feed.
Similarly, for videos, Facebook announced in January 2017 that longer videos with higher completion rates would be ranked more highly on the Newsfeed.
To determine how prominent a video is on a Newsfeed, Facebook evaluates various factors such as live video status, engagement based on length of time watched and "percent completion."
A video that is watched at least halfway signals to Facebook that the content is "compelling." It would, therefore, rank higher on the Newsfeed.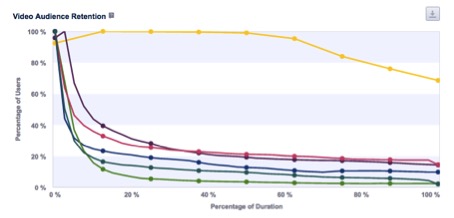 If you look at the above graph, the video which is represented by the yellow line had a completion rate of 60 percent. This means that this video would rank higher in the Newsfeed compared to the rest of the videos published.
Who posted it
When generating the Newsfeed, Facebook also evaluates how close you are to the person or Page posting the content. The more you've interacted with a post's author in the past, the more interested Facebook thinks you'll be in their future posts.
This interaction could be engagement such as liking or commenting, but also clicking or slowing down to read their posts, visiting their Page or profile, tagging them or being tagged together in posts or photos. This explains why you don't tend to see post from old friends or from Pages with which you haven't interacted in a long time.
In addition to prioritizing posts from Pages you interact more with, in mid-2016, Facebook also started prioritizing posts made by family and friends rather than Pages, placing them higher on one's feed. Thus, to maximize a Page's reach, Facebook suggested that Pages post "things that their audience are likely to share with their friends."
Authentic posts will rank more highly on the Newsfeed
To combat fake news on one's Newsfeed, Facebook will begin to rank posts which they determine as 'unauthentic' much lower than other posts.
The more negative feedback a post receives, the more unauthentic it is perceived to be. Actions such as 'unliking' your Page; reporting content as spam or abuse; hiding your posts or hiding all posts from your Page are all considered as negative feedback.
Not only does negative feedback decrease the visibility and engagement of the specific posts which people reacted negatively to, it also gives you a lower relevance score and consequentially a higher CPC and CPM.
To maximize reach and engagement, marketers should constantly stay updated on the negative feedback that their Page receives. By keeping track of the spikes in negative feedback, it's possible to diagnose the cause and avoid repeating such posts again.
One actionable steps for marketers is that if you want more people to see your content in the Newsfeed, make sure that you add a compelling headline to entice people to start the video. Then you need to make sure your content is relevant and engaging enough that people stick around to consume it.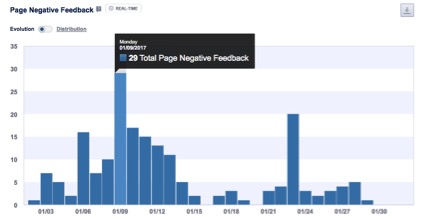 Marketers don't need to counter the declining organic reach of their brand's Facebook Page by turning to a 100 percent paid strategy.
Instead of throwing money at the problem, marketers should focus on understanding how the Facebook Newsfeed works and adapt their strategy accordingly to maximize visibility and interactions on the Newsfeed.
Ultimately, Facebook's Newsfeed mission should also be your mission each time you create content: The goal is to create stories that matter to your target audience and keep them on the platform for as long as possible.