The holy month of Ramadan is an introspective and spiritual time of the year, when people fast, pray, change their daily routines, catch up with their favorite TV drama series and spend more time with their near and dear ones.
It's also that time of year when television and digital screens are bombarded with commercials. To help marketers outshine their competitors, and stand out amid Ramadan ad clutter, Sapience, in partnership with Mediaquest, conducted an analytical study titled "Marketing in Ramadan".
The first part of the report looked at trends in the FMCG sector while the second part looked at media consumption and purchase behavior. This is the third and final part of the report that looks at all Ramadan and Eid advertising with a focus on insight versus stereotype based advertising and the channels that work during the month.
To download this part or the full whitepaper, please , and a representative will be in touch with you.
Credibility in clutter
Advertising clutter is caused by several factors including:
Too many commercials in one break
Too many commercial breaks in an hour
Too many brands from the same category during the same period
In Ramadan, however, all of these factors are present simultaneously presenting a major challenge for advertisers.
So, how can brands stand out?
1. Viewers notice sponsors
Sapience's report finds 13% of Saudis notice when a brand is a sponsor of a particular program, which makes sponsorship a lucrative form of advertising.
2. Viewers have more choice
The fact that viewers have more choices in how and when they consume content is both, a challenge and an opportunity, for advertisers. The increasing clutter on TV and the fact that viewers do not control the airtime is leading them to video-on-demand (VOD) channels with 42% Saudis preferring VOD over TV and 32% preferring to watch the first run of a show on a VOD platform rather than TV.
[Tweet "42% Saudis prefer VOD platforms over traditional TV."]
TV is King
Despite the growth of time spent online and preference for VOD platforms, "TV remains to be the largest percentage of actual spend," says a Publicis Media spokesperson.
In fact, 18% of annual TV budgets are spent during Ramadan.
But, what's working on TV?
MBC 1 is the leading channel followed by Rotana Khaleejiah, MBC Drama, Dubai TV and Abu Dhabi TV during Ramadan. The success of these channels is marked by the increase in viewership of TV series – versus movies, for example – which almost doubles during Ramadan.
To download this part or the full whitepaper, please , and a representative will be in touch with you.
TV series dominate over 60% of the share of rating and 74.4% share of investment during Ramadan versus 33% and 38% respectively throughout the rest of the year.
The viewership of movies drops significantly during Ramadan with the share of ratings going from 24% throughout the year to 0.4% in Ramadan, which is subsequently reflected in the share of investment dropping from 22% to 2.1%.
Which agencies are dominating the Ramadan advertising scene?
There are five media agencies investing in Ramadan spots on TV on behalf of their clients accounting for almost half of the entire advertising budget. These are:
Starcom Mediavest Group
Initiative
Havas Media
UM
Mindshare
So, what worked and what didn't?
So far, it is clear that TV is dominating the ad dollars but users' propensity toward digital is massively increasing. It is also a well-known fact that purchases increase not only during Ramadan, but also in the days leading up to and following it. These factors combined provide advertisers with a unique opportunity to advertise to consumers who are already in the frame of mind to make a purchase.
Some advertisers choose to take a more tactical approach, while others go for brand films that are reflective of the spirit of Ramadan. But, are they?
77% of Saudis find Ramadan ads to be reflecting the past, rather than the present and less than half (46%) felt that Ramadan ads don't properly reflect and capture the values and spirit of the month.
[Tweet "77% Saudis thought #Ramadan ads are not reflecting the present culture."]
So, we looked at all the campaigns released this year to see how many of them reflect the true spirit of the month.
To download this part or the full whitepaper, please , and a representative will be in touch with you.
Ramadan campaign review
CENTREPOINT
"The insight in this idea is that if you are going to give a gift this Ramadan then make sure it's a gift of kindness. The world is fast becoming a more equal for women and none so more here in the Middle East and heart of the Muslim world," explains Paul Shearer, chief creative officer, Impact BBDO. The film aims to depict equality through kids because "if kids can accept each other, no matter what sex you are, then adults should as well," adds Shearer.
The campaign made use of online and broadcast channels, using the longer version whenever possible to effectively tell the full story.
BABYSHOP
"In an uncertain time, when the world around us remains divided between "us" vs. "them", when we're all building walls between countries, families, neighbours, economic and social statuses and each other, Babyshop is sharing a message of unity during the month of togetherness – but, with a 'little' difference; encouraging us to open up our hearts, doors and minds to others by embracing its philosophy of "World Without Walls"," explains FP7 MENA the agency behind the campaign.
The film was launched on YouTube and Facebook and has amassed over a million views on YouTube since its launch. The brand is also encouraging conversations around the hashtag #WorldWithoutWalls through in-store activities, on-ground initiatives, and social media.
HYUNDAI
Hyundai's aim was to show that no matter how much time goes by, Ramadan is the same from generation to generation, and repeats the same amazing memory. Its pre-Ramadan and during Ramadan ads will be showcased both on TV and online, whereas the post-Ramadan/Eid campaign will be only digital. As part of this approach, the brand has chosen various media channels based on their popularity during Ramadan, including MBC, Rotana, Shahid, YouTube, and Weyaak, says a spokesperson from the automaker.
The campaign's approach of Ramadan being the same from generation to generation might, however, not resonate very well with the audience with 77% of Saudis finding Ramadan ads to be reflective of the past rather than the future. One element that audiences find to be misrepresented is the idea of family and friends gathering together for iftar and suhoor and interacting with each without any tech device present. In fact, 43% Saudis said that at iftar and suhoor they're on their phone or tablet and only 19% said they don't engage in any other activities except eating and interacting with family and friends.
[Tweet "43% Saudis are on their phones at iftar & suhoor – something not reflected at all in Ramadan ads"]
Sapience's rankings show mixed attitudes toward the brand's advertising. On one hand, audiences have expressed a positive attitude to Hyundai's ads with the brand ranking No. 1 for likeability and No. 2 for uniqueness. But on the other, Hyundai lags behind with a score of 5.8 for believability and 5.2 for differentiation.
HUAWEI
Although the brand's Ramadan activities are fairly spread out across digital, video, retail, experiential and PR, the central theme is #SayShukran this Ramadan / #قول_شكراً في رمضان.
"In extending this sentiment, we know the power of gratitude via a simple 'thank you' can enrich lives. Localizing this to our region, the word 'Shukran' has the ability to motivate, create goodwill, make peace, and solidify love and commitment. Ramadan is a time to say Shukran to those that care for you and for all that you have," says a spokesperson.
Evident from the hashtag, the campaign puts digital at the core.
The brand even created a Facebook Messenger bot for the holy month to create deeper engagement with the target audience. "Given our call to action involves people sharing intimate and heartfelt stories about their loved ones, we wanted to ensure we treat this engagement in a more meaningful and respectful manner, which the bot allows for. It also gives us the opportunity to create tailored content, resulting in a better experience for participants in the campaign," explains the spokesperson.
Additionally, those using the hashtag on social media stood a chance to win the new P20 Pro smartphone.
Keeping in line with the gratitudinal spirit of Ramadan, the campaign was Huawei's way of thanking its customers in the MEA region for an overall market share of over 15% while also encouraging audiences to stop for a moment in their busy lives and thank each other.
H+K Strategies worked on the strategy development and campaign execution while NDigitec managed the production.
VIMTO
Vimto is known as a Ramadan drink in the region and so, unsurprisingly, it ranked the highest among the top advertisers in terms of audience's reaction to its Ramadan advertising. It sold over 25 million bottles last year according to a report by Gulf News.
"Vimto is a delicious and refreshing thirst quenching iftar ritual associated with providing a rewarding boost, soothing the body after a day of fasting. It grew to become Ramadan's symbol of 'sweet togetherness' … characterized by its symbolic deep color and the Vimto cloud created when it infuses with water, which is prepared and shared, not just opened,"  Rasha Sakr, marketing manager of Vimto told Gulf News.
Vimto's ad made it a high scorer across almost all of Sapience's brand rankings. It scored high on the likeability scale with a score of 7.7 and audiences found it to be the most reflective of the Ramadan spirit with a score of 8.9 – the highest among its peers. It was also found to be highly relevant with a score of 8.2.
In addition to the above film, this year, the brand returned to Snapchat with its "Light Rope" representing the connection between people. The idea was brought to life through a Lens and a Filter. Both creatives were accompanied by Vimto's well-known jingle. The brand also created one of the region's first branded content offering shot specifically for Snapchat by using the Vimto Light Rope as the focus for seven 10 second videos which were amplified through Snap Ads. The campaign reached 8 million unique users, the Filter was viewed 80 million times and users played with the Lens for an average of 32 seconds.
ZAIN
Zain Kuwait dropped this bold ad on May 16 opening itself up to tons of praise – and criticism.
The almost four-minute long spot features an Arab kid wishing Ramadan Kareem while also pleading for help as he addresses world leaders including Donald Trump, Vladimir Putin and Kim Jong-un.
The ad is being applauded for its bravery while also being criticized for its political nature. MBC even banned the ad from appearing across its channels. Last year, too, Zain's Ramadan video featured an anti-terror message by pop singer pop singer Hussain Al Jassmi. Again, while it was applauded for being bold, it was also criticized for being political and insensitive by featuring a young boy in a bus with a striking resemblance to Omran Daqneesh, the Syrian boy whose photo became famous following the strike in Aleppo. Zain KSA, on the other hand, took a more subtle approach by remembering those who have fought in the army and are no longer with us to celebrate the month of Ramadan.
While Zain's ads have been criticized by many, Sapience's rankings show that they are more loved than criticized. Zain ranks the second highest – behind Vimto – in the overall brand ranking for Ramadan ads with exceptionally high rankings for reflecting the Ramadan spirit (No. 2), relevance (No. 1), uniqueness (No. 1) and clarity of message (No. 1).
LIFEBUOY
Unilever's Lifebuoy launched a series of seven-second videos for Ramadan. Explaining the rationale behind linking hygiene to Ramadan, Asad Rahman, media director, Unilever MENA, says, "Ramadan this year has coincided with that time of year when children are more susceptible to falling ill due to seasonal change. This is a contributor to heightened anxiety levels amongst GCC mothers, due to added responsibilities for Ramadan."
The team identified key themes and topics based on Internet searches before and during Ramadan creating 19 bumpers for the campaign.
"Specific channels or media platforms were chosen with the objective of optimizing for maximum reach whilst creating the most conducive platform for Lifebuoy to join in on the biggest conversations online," adds Rahman. These include Twitter for pre-rolls and trending hashtags; YouTube for bumper ads served prior to Ramadan appropriate tracking to ensure most effective assets are served on priority; and Facebook posts to engage in popular conversations with relevance in real-time, he adds.
ZENDIUM
As those observing fasts during Ramadan abstain from eating or drinking, they might experience dry mouth and stale breath. This insight drove these quick videos by Zendium, which aimed to educate audiences and help prepare for their fast by highlighting the product's key benefits – which also happen to be perfectly suited for Ramadan: moisturizing and fresh breath for longer.
Two short videos were created to drive awareness and educate female consumers between 20 and 45. These were pushed on YouTube, which according to the brand has maximum viewership from its target audience.
LISTERINE
In a similar vein, Listerine is marketing its 'Miswak' mouthwash during Ramadan, which is an especially appropriate time given that some people only use miswak during Ramadan. The brand has taken an interesting approach wherein it's using digital to target consumers at the right moment. Given that watch time for content around food and recipes increases by 25 percent during Ramadan, Listerine wants to target users right when they're watching this content to remind them to well, wash afterward.
And so, Listerine – or rather its agency, J3 – is working closely with "moment marketing company" TVTY to sync and target second screeners with the brand videos whenever relevant food commercials appear on TV, explains Shreya Parker, associate media director at J3 MENA. The strategy includes targeting food and recipe keywords across YouTube and programmatic, in addition to suhoor-related banner messaging. On social media, the brand targeted users during these "food moments" via vertical videos, cinemographs and educational infographics on Facebook and Instagram as well as Snapchat to engage consumers during Ramadan and encourage them to "swipe up" on the Snap Ads.
SAUDI TELECOM COMPANY (STC)
"Altruistically, this year, STC will not be launching a branded Ramadan campaign for itself but will be launching a branded Ramadan campaign for Saudi innovators, visionaries, challenge takers, and those who do not accept 'NO' at any cost. This year STC will celebrate Saudi Entrepreneurs," explains Rayan Bou Karroum, business director at STC's agency UM KSA.
STC has been known for its Ramadan campaign in previous years and audiences have grown to expect and like its Ramadan ads. The brand ranked third in Sapience's overall ranking. It also came in second for believability and third for reflection of Ramadan spirit.
This year, however, with Saudi participating in the World Cup, it is understandable that local brands are shifting their attention – and budgets – to advertising during the World Cup. As Karroum points out, "Ramadan 2018 will be especially unique due to platform consumption transformation, the commencement of World Cup and the Saudi national team playing in three consecutive matches starting 14th of June."
OMO and COMFORT 
After nine years and three Guinness World Records for most clothes collected, "Share A Touch of Love" is back. The clothes donation campaign encourages people to donate their clothes to the less fortunate during Ramadan, in partnership with The Emirates Red Crescent.
"Ramadan is all about generosity, sharing our blessings and doing good. "Share A Touch of Love" does just that. It encourages people to demonstrate this spirit with a simple act of donating clothes," says Rahman.
This year, the brand went further with 30 independent partners including Uber, Souq, Washmen & Helpling and Dubai Chamber of Commerce. Even influencers joined the cause – free of cost – to spread the message.
The media objective of the campaign was to drive top-of-mind awareness and talkability, says Rahman, which made YouTube the key campaign platform. It was supported by using geo-fencing and location-based targeting on Facebook, Instagram and Twitter, which helped nudge consumers to donate when they were in the vicinity of donation boxes. To drive talkability, the brands relied on content partnerships and PR outreach with publishers such as Yalla Feed, Insydo and Khaleej Times.
KIRI
Kiri's Ramadan campaign saw a series of videos that not only focused on the content and creative, but also its distribution. We spoke to the agency behind it, Publicis Media's Zenith to find out more:
Challenge: Ramadan witnesses an extreme change in media consumption habit driven by an increase in TV viewership of 25 to 30 percent. F&B brands are only getting more aggressive resulting in a very cluttered space. With over 2,000 brands advertising on TV and thousands more in promotion-filled supermarkets, it's harder to build awareness and attract a mum's attention, without a notable spend. Bigger players spend millions of dollars on TV and smaller ones try to break through the clutter with tear-dropping emotional communication, CSR campaigns and dominate the second most influential touchpoint 'digital'. Our challenge was to defend our territory during these times and build an even more, deeper connection with our audiences, which was definitely not an easy task given the thousands of messages that are bombarding the mum daily.
The idea: During Ramadan, a mum puts herself under high pressure to master the iftar and be the best host throughout the celebrations. She wants to do her best because the expectations from her family and peers are very high. So, just before Ramadan, when the stocking up for F&B products takes place, we used five mommy influencers to released fifteen short Buzzfeed-style videos of their favorite Ramadan recipe, which they cooked and shared on their social channels along with KIRI.
We divided the recipe videos into three main categories: Vegetarian, Meat and Dessert.
Execution: We targeted mothers across all digital channels including search, social, display, video and mobile using programmatic technology. We then used SIGNAL PLANNING, a proprietary planning methodology by Zenith ROI group to 'de-clutter' our communication and target vegetarians with vegetarian recipes, mean lovers with meat recipes and people with a sweet tooth with dessert recipes in a platform agnostic approach. This approach helps create every single ad with customized text and ensures it is contextually targeting a mother based on her historical preference across all digital platforms to maximize relevance, engagement and ultimately fondness for KIRI. As a result, each mother was looking at cooking tips for items she was interested in.
Results: The campaign resulted in an 89% higher view rate and 77% higher completion rate on Facebook and Instagram; 45% higher view rate and 50% higher completion rate on YouTube; and a 96% higher CTR and 58% higher completion rate on display and search.
MAJID AL FUTTAIM

"Ramadan is a month of personal reflection, inner peace and sadaqah (charity), a balance of well spent time with the family and the community. However, over the years, traditions and lifestyles have changed along with the way Ramadan is celebrated. It is, thus, imperative that parents sow the seeds of Ramadan values and encourage children to practice the same at an early age, leading by example and educating children on the cause and effect of their actions," says a spokesperson from the MAF's agency, Publicis Media. Enter "Dabdoub's Good Deeds Club".
The idea is to engage children in the charity-giving aspect of Ramadan and encourage generosity by showcasing a direct reward as a result of this act.
"Dabdoub's Good Deeds Club" was brought to life through mall activations inviting parents and children to collect their very own Dabdoub (Teddy Bear) after donating and completing Dabdoub's chain of goodness.
The media campaign for this activation had a two-fold approach:
With the objective of campaign awareness reach was driven through a mix of traditional and display media options like Outdoor across the UAE, Bahrain, Oman, Lebanon and Egypt, followed by Radio, Display and Social.
Display included top reaching platforms like YouTube pre-rolls and two mastheads, Shahid and Anghami.
While TV viewership increases from 3.1 in other months to 5 hours in Ramadan, so do the prices for TV spots. User behavior, however, shows that users are on multiple devices at a time. And so, instead of directly spending on TV, the agency synced its content with top Ramadan shows and content only. The brand did sponsor Qomra on Shahid in addition to measuring and monitoring the ad recall of the campaign as an additional measurement metric on YouTube.
Majid Al Futtaim also set up a special crafts corner at the City Centres in the Northern Emirates where kids could decorate iftar boxes that would be distributed to the less fortunate by Emirates Red Crescent.
"Ramadan is the best time of the year to teach children moral values and empathy. Children can explore their artistic side with our unique craft sessions where they will get to personalize iftar boxes. At the same time parents can take this opportunity to start a conversation on the importance of sharing and charity. The initiative also demonstrates our commitment towards communities across the Emirates by giving something back and creating great moments for everyone, every day. We are certain this will bring a smile to the faces of those less fortunate," says Mohammed Al Rais, senior mall manager – Northern Emirates Malls, in a statement.
BMW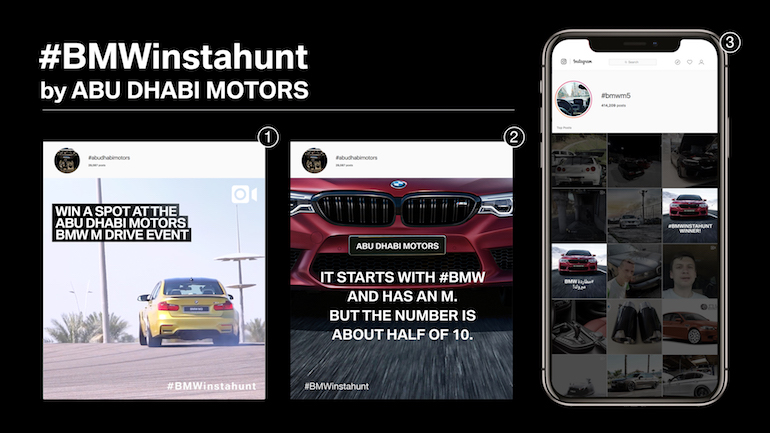 Using the age-old tradition of Ramadan 'Fawazeers' (riddles), Grey Dubai launched #BMWinstahunt for Abu Dhabi Motors. The campaign asks users to crack clues and find cars hidden on Instagram.
The answer to each clue is a hashtag of a BMW car model. Users have to search the correct hashtag and find the winning post amongst thousands of others for their chance to win a spot at the next highly anticipated track event.
The campaign is running until just after Ramadan, with a new clue and winner every week.
Although the ad isn't based on a strong Ramadan insight, it is worth noting that BMW ranks the highest in Sapience's rating for believability.
MCDONALD'S
To mark th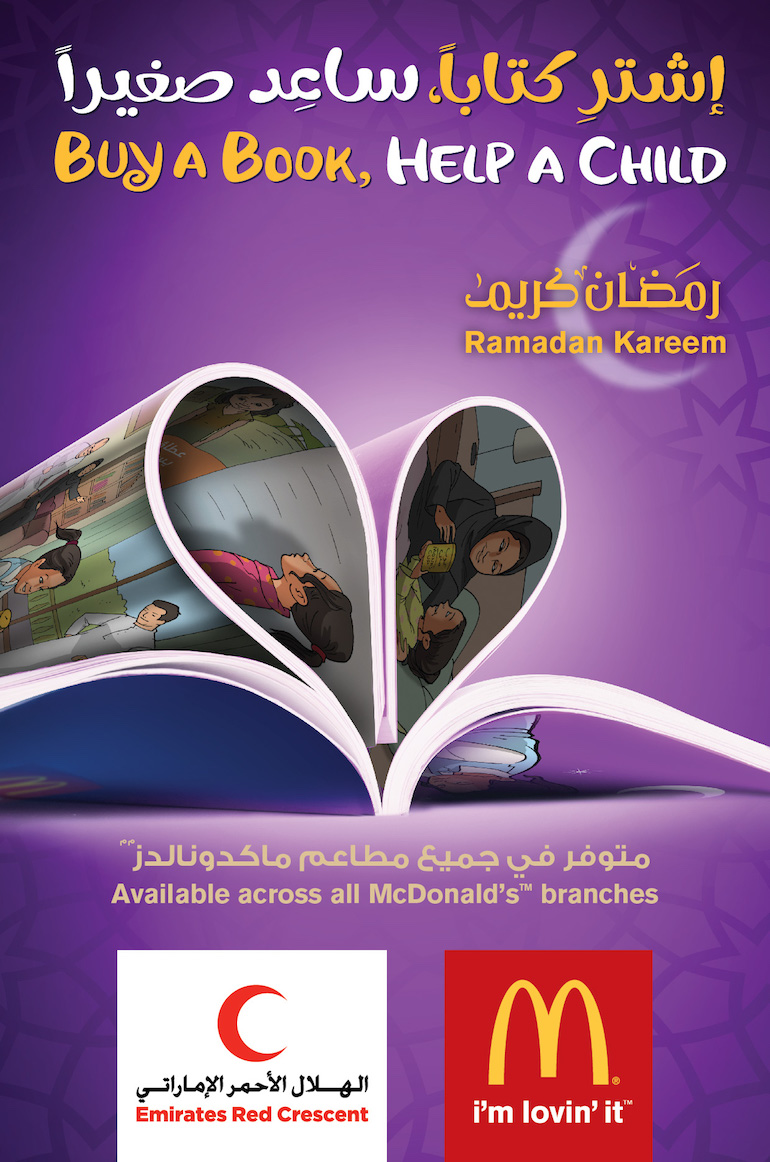 e beginning of the Holy Month and the spirit of giving, McDonald's UAE launched its Ramadan Books campaign in partnership with Emirates Red Crescent.
From May 16 until June 11, four Ramadan books, priced at AED 5 each, were sold at McDonald's UAE restaurants. Written exclusively for McDonald's UAE, the children's books delivered a positive message about the importance of education, cleanliness, and charity. All monetary proceeds generated from the book sale were invested in Emirates Red Crescent programs specific to local communities and children in the UAE.