As the region – and the world – entered an unprecedented time of confinement and isolation in March, leading Dubai-based bank Emirates NBD launched a series of initiatives to support people and businesses, helping them alleviate the financial pressure they are under and use contactless banking while staying safely at home.
In parallel, Emirates NBD also developed and shared #AloneTogether, a message of optimism and solidarity reinforcing social solidarity and expressing how, in choosing to be alone, we can, in fact, be even more together.
Moadh Bukhash, Chief Marketing Officer at Emirates NBD, and Vicky Kriplani, Group Account Director at FP7 McCann Dubai, explain how this initiative came about, what it meant for Emirates NBD, and how the film was created at a time when normal shooting was impossible due to the lockdown.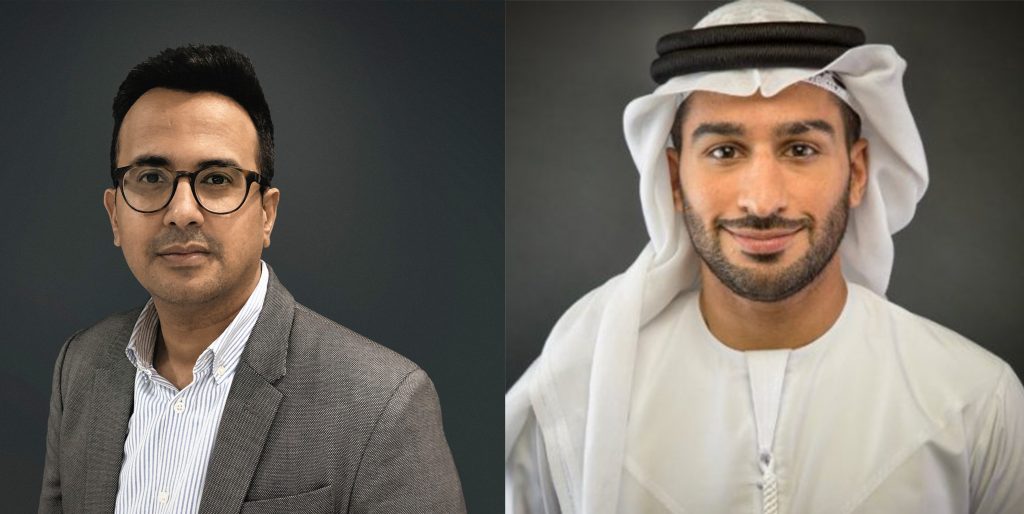 There are many messages out there around solidarity, responsibility, etc. Why did you choose to focus on togetherness?
Moadh Bukhash: When people across the globe began to socially distance in response to Covid-19, what we identified early on was the need for people to feel reassured that isolating did not necessarily mean feeling isolated. Humans are innately social creatures, and across the world, we are seeing examples of inventive togetherness, be it the Italians singing from their locked-down balconies or New Yorkers applauding healthcare workers from their homes every evening.
Our campaign was aimed at celebrating this much-needed feeling of togetherness and closeness, especially when coming together in groups is physically impossible. Covid-19 has brought the world together like never before, united in our need to protect the most vulnerable, honor those working to protect us, and celebrate everyday triumphs against a faceless threat. It is this spirit – the strength of togetherness – that our campaign seeks to capture. For the first time in our brand's history, we added the tagline #TogetherWeWillConquer to our logo to serve as a clarion call, binding all our communication under a common message of hope for our people, customers, and community.
Vicky Kriplani: Bespoke research we have conducted at FP7 McCann has shown a rise in emotional isolation, familial anxiety and a general sense of uncertainty right across our region. In responding positively, Emirates NBD shifted the focus to the advantages of being together with one's closest emotional support and the various possibilities that it opens up behind closed doors. We can leverage the benefits of family bonding, a sense of mutual sustenance through this challenging global crisis.
How strategically important was it for Emirates NBD to take on a leadership role during this crisis?
M.B.: There have been numerous books written about businesses that have emerged stronger than ever before following a crisis, and while there is no single formula that works for all companies and industries, it is evident that the senior leadership at Emirates NBD has demonstrated exceptional foresight and resilience, assuming a leadership role during this challenging time.
The impact of this crisis has been two-fold: on our health and on our finances, and I am proud to state that Emirates NBD has truly stood by its commitment to its people, customers and the community in so many different ways: we were among the first to implement remote working and precautionary measures for employees, offer financial relief to impacted individuals and businesses, and provide aid to students to support distance learning. However, what stands out for me is that our strategic focus, several years ago, on digital banking, customer engagement and a service culture, has meant that we have been able to offer safe banking, stability and business continuity, uninterrupted to our customers and the wider UAE community through this period.
As a UAE-brand with geographical footprint and presence across 13 countries, servicing over 14 million customers, our leading role in this challenging period sends a very powerful message to our stakeholders, peers, and partners across the globe.
What is Emirates NBD's crisis communication strategy?
M.B.: Our strategy, crisis or otherwise, has been defined by our commitment to our people, customers and the community. From a communications viewpoint, we have undertaken proactive and practical measures to ensure we are listening to our people and our customers and supporting them where they need us most.
As the adage goes, you can't overcommunicate during crises. This is especially true as this is the first pandemic in a connected, social media world. Because of quarantining and isolation, consumers are more active than usual online, and they need to hear from the brands they know and love. We firmly believe that it's critical to stay in the conversation because it will be a lot harder to leave and then re-enter when this is all over.
For staff, we publish regular updates on our company Intranet, to keep employees abreast of best practices on health and safety measures, and remote working, in addition to communication from senior management, including our CEO. We have launched appreciation initiatives, for our branch staff that are working tirelessly as front-line ambassadors for our brand.
For our customers and other stakeholders, we have established a Covid micro-site that provides a single source of updated information on our ongoing operations and services, branch timings, relief measures, and precautionary protocols. As the situation evolves, we have continued to update customers regularly via email and SMS, and engaged frequently through our social platforms, providing advice on topics ranging from contactless banking to Covid-related phishing scams. We've adopted engaging, interactive content wherever possible, from Google map-linked updates for customers to easily locate our branches to 'Contactless 101', our Instagram quiz that rewards players for their safe banking and payment practices.
Many organizations tend to go 'dark' in times of crisis. How important is it to keep communicating with customers and how to not appear like trying to profiteer from the situation (something that many brands are concerned about)? In this context, how do you find the right emotional balance in messaging?
M.B.: There are two aspects of our campaign strategy I'd like to highlight. Firstly, we have leveraged the strength and reach of our brand for social good. The first phase of our campaign has almost exclusively been in the form of public service advertisements, from our first Contactless Banking video to hoardings displayed at prominent locations across the country, reminding the community to stay home to stay safe, and numerous other videos and content on social distancing.
Secondly, embracing the theme of 'Togetherness,' we have consciously avoided single-sided communication by creating channels and tools for customers to talk to us and, more importantly, to each other, via their favorite social messaging platforms. For example, we have released bi-lingual WhatsApp stickers, all ideated and created in-house, that encourage users towards positive social behaviors such as staying home, washing their hands, not spreading rumors, not hoarding, etc.
V.K.: There will be a knee jerk reaction from some marketeers to go dark during these times, but we've seen in previous recessions that completely disappearing off-grid is strategically the wrong move. During such times, brands that stay visible are more likely to be successful long-term, although any communication should be sensitive, empathetic, and socially motivated. Therefore, we shifted our focus from a product- and service-related communication to responsible social messaging, whilst gently highlighting our contactless banking services which offer complete safety without compromising on efficiency.
How long did it take to create this campaign and how did you approach the creative process under these special circumstances?
V.K.: The creative process called for intelligent time and resource management, and just as we have approached many Covid-19 related briefs over the last few weeks, our 'Agility Cell,' consisting of creative, strategy, and business leads, set about addressing the clients' inspiring brief.  This was that one instance where ASAP also meant "As smart as possible." We arrived at a strong situational insight and shared it with the client team who enthusiastically approved the idea for the film. From there, we worked four frenzied days and sleepless nights behind the closed doors (no pun intended) of our individual homes. Overcoming the many challenges of collaborating remotely, we had the creative ready to roll. Throughout the process, Emirates NBD supported the agency team with prompt feedback which made the entire process lightning fast.
What production challenges did you face, considering the lockdown, and how did you solve them?
V.K.: The never-before lockdown presented never-before production challenges. Working through tight budgets and deadlines can be managed. But piecing together a production over video calls was uncharted territory. With the resourceful ingenuity of the agency team and constant connection between relevant leads, in the end, we had a film that we were pleased to put our name to and one that we knew would resonate with audiences regionally and globally.
I guess when you compare the many challenges the world is going through right now, a few production challenges were definitely more manageable.