By Amol Ghate, Managing Director, Kantar Insights – UAE
The proliferation of digital media has led to massive fragmentation leaving marketers scrambling to understand which channels and creative ideas are best used to reach and engage their target audiences. Media options seem endless. To further complicate matters, these different digital choices and reactions to these choices vary by age bands.
This new AdReaction study by Kantar MillwardBrown – part of Kantar, WPPs data investment division – explores advertising receptivity across Gen X, Y and Z to understand when and where each group is most likely to respond positively.
Gen Z (sometimes called post-millennials) is the first generation to have grown up with a smartphone in its hands. It's not surprising to see the heavy involvement of these post-millennials with the mobile device. What clearly discriminates Saudi GenZ members is their lack of involvement (and perhaps interest) with TV.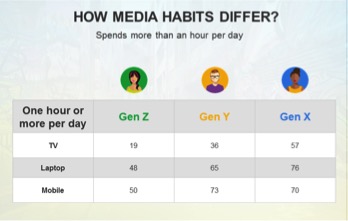 The high penetration of mobile in KSA means that the Kingdom sees heavy usage in terms of mobile video with only one in five GenZ members spending more than hour a day consuming TV content.
What they think:
In terms of formats, there is a great need for gratification or value exchange as mobile app reward tends to work across generations. Being in-control or watching the ad is also important and hence consumers tend to prefer skippable formats. Conversely, non-skippable formats tend to be intrusive and cause annoyance.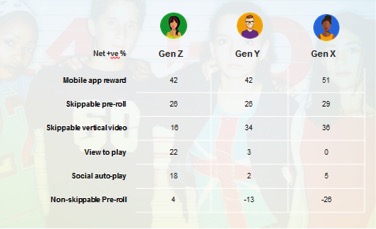 Big hurdle – Ad blocking and reasons therein  
The study shows that Gen Z are tired of advertising; 82 percent of them avoid ads in some way or the other and 50 percent of them use ad blockers. Reasons for using ad-blocking mechanisms vary by generations – GenZ gets annoyed by ads while the GenX find the ads to be intrusive. This is potentially a big issue for advertisers who are not able to resonate well with GenX.
Overcoming the obstacles
With almost a fifth of GenZs using ad blockers, they are hardest to reach for advertisers in the region making them the largest obstacle for advertisers and marketers in Saudi Arabia. They don't want brands invading their digital territory. Hence it's important that any advertising that they are exposed to is relevant to them and offers them control for watching or skipping.
Further, GenZs in Saudi Arabia look for a value exchange. As high as 40 percent of them would prefer an ad that gives something in return. Humor and visually appealing ads follow close second and third respectively in terms of factors that inspire them to watch an ad. Branded content can also play an important role as 38 percent prefer the format.
Last but not the least, be simple. As noticed earlier that there are a plethora of choices and an advertisement just has a couple of seconds to impress these post-millennials. Make it simple for them to comprehend the ad. Conversely, don't make it harder for them to work out the message.