Ali Inam, head of marketing at on-demand fuel delivery app Cafu, considers the service to be much more than an app: he sees it as a learning organization as well. Communicate sat down with Inam to learn about Cafu's one-year journey as a digital-first brand, ongoing campaigns and the road ahead.
How did Cafu begin?
Cafu was a concept that the company came up with last year. It was really built around convenience. We looked at the business model and the way that it operates, which was based around offering a new, convenient, more viable, futuristic, innovative service to the people.
How do you view the UAE digital landscape right now? 
If we're talking specifically about the UAE, we still have a lot to do; we're still in a very good learning space. There's a lot of conversation happening around this. There's still a long way for the UAE to go in terms of understanding the potential of digital.
I think [the industry] still takes it in a very project-basis sense. It's always, 'I'll run a social campaign this quarter' or 'Let me see what other brands are doing and let me copy them.' Things like that. I don't know if people are scared to try things or they're unsure of the potential of digital, but we still have a long way to go. And it's not just on digital. There's still a lot of conversation around technologies like AR. Brands are bolder and riskier in international markets. We're still catching on.
How has Cafu adapted itself in this landscape?
There are two things we've been doing right that helped us get to where we are. Number one is consistency. This is where I circle back to the point I made earlier about how brands in this region treat the whole digital aspect as a project-based initiative. Do one thing this quarter; see some other brand doing something later and follow suit. With Cafu, we're doing it on a very consistent basis. Whether it's creating separate target messages for different platforms, social advertising, etc., we use all the platforms that are beneficial to us on a consistent basis.
And this is where the second ingredient of our recipe comes in, which is understanding the platforms. We understand all their advantages and limitations and operate within those boundaries. We also use only the platforms that are beneficial to us and to our customer base. We're not going to use the ones that X brand is using. These understanding and integration of all the platforms together are what helps our campaigns run successfully.
For the Ramadan campaign you did this year, the 'Faded Voice,' why did you choose Kris Fade as the influencer?
That was a very interesting time for us and we wanted to do something different. We started understanding what people do during Ramadan: video views go up, entertainment goes up, people look for things to pass the time. So, we wanted to create something really entertaining for people, but we also wanted them to understand what Cafu really is. So, we developed a series of videos; each video would start with a comment from someone on the first video. We launched the first video and then we asked people what was going to happen next. The first one was alright but the second one was where it really blew up. We had about a million views and it even got to the point where people started sending us private messages with scripts. The purpose again was to bring Cafu to the people while giving them something to be entertained with, and Kris really did a great job. We choose Kris because of his straightforward approach; he's pretty popular and a familiar face in the region. His voice. His voice is his biggest asset and he loses his voice in this video. That was the gimmick.
What about the campaign that's currently running?
It's our first brand campaign. It's under the umbrella of a petrol station in your pocket. We really wanted people to look at the visual and understand what's happening. We could have gone with a bolder message but the aim was to put something simple and straightforward, and at the same time make people understand what Cafu does. It was a lot of trial and error, testing, small intrinsic research and focus groups, to really get down to this message. At one point, we had about 25 different routes that we had to choose from.
When you're in marketing, sometimes you tend to forget that your level of understanding is not the same as the consumer's level of understanding. There are a lot of times when you have to put yourself in the consumer's shoes, which is pretty difficult. With this campaign, we thought we were being super clear when we weren't. We had the car first, we had a phone standing, something coming out of the phone, nobody understood anything. It was just mixed messages coming out.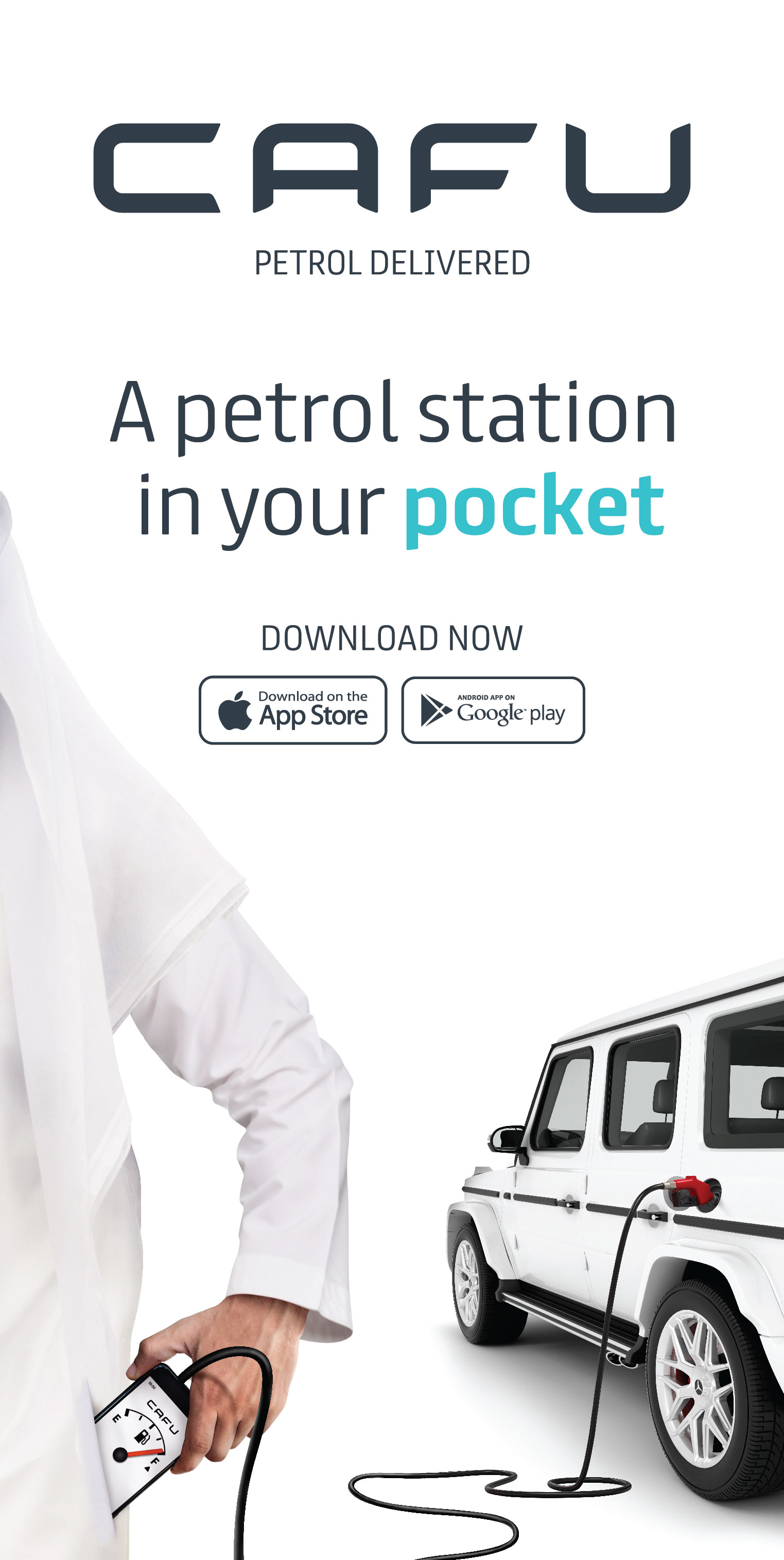 After a lot of trial and error, we finally got it right. The phone connected to the car, the copy worked well with the creative and really delivered the message we intended.
Could you tell us about some limitations you faced in the process of establishing yourself as a digital-first brand?
One of the primary limitations was in terms of people understanding what we do. There were other limitations as well, such as understanding that we're not an emergency service. There was a [perception that] 'It's such a Dubai service! It's probably expensive and reserved for a very limited group of people.' Another limitation is that we don't fuel indoors. Limitations in terms of when [users] should order, how often they should order, how quickly the truck is going to be there, how quick the process is because of the whole on-demand mindset. There's always going to be limitations to the services that we do. Being digital-first is an opportunity to really pinpoint the pain of the people and target them with specific messages. That's where we find digital working so well, because almost all of our audience is online. But at the same time, you don't want to have a generic message that goes out to everybody. On the flip side, you don't want multiple messages going out to the same person as well. Google calls it 'moment marketing.' You'll think of petrol when you're low on petrol. It is a moment and we want to make sure that when the moment hits you, you don't have to worry. And that's where digital gives us the advantage of making sure that we're present at the right place, with the right message and deliver it to the right audience.
What is your five-year vision for the brand?
I don't know what's going to happen in five days. For me, if you have a car, Cafu should be the only thing you think of. We're not a fuel delivery service. We're a technology service, car service, fuel service, etc. We're not trying to be everything but we are trying to be the best at what we do. We're not going to offer you 100 different services. It will always be a handful of services but those services are going to be the best services that you can think of. By the end of 2020, I want Cafu to be the best service and company in the region. But that's only going to happen if we keep on delivering at the same level that we have been but keep on improving. Every customer that we serve, I want them to be the happiest person ever. I don't want them to go through any other hassle. They make an order, they hit that order button and then forget about it. It is our job to fulfill that order, keep in touch with them, keep understanding what their needs are, and keep fulfilling those needs. We're a learning organization and we continue to learn and adapt. We're understanding the consumers as much as they're understanding us. It's as much of a give as it is a take. That's where I see Cafu heading.