It's not Snapchat's week. First, Kylie Jenner said she doesn't open the app anymore, and then a big consumer brand polled its followers to find out whether Snapchat is actually worth its while.
On Thursday afternoon, L'Oreal cosmetics brand Maybelline New York said via Twitter that its "Snapchat views have dropped dramatically" and asked followers if Snapchat is the best platform to use to connect with its customers.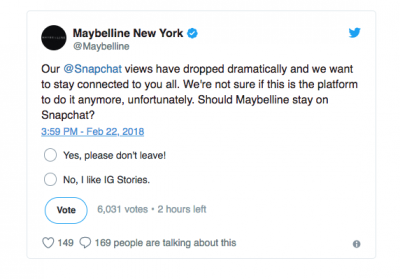 The brand's followers were invited to reply with "Yes, please don't leave!" or "No, I like IG stories." Indeed, Instagram, which unveiled its Stories platform in 2016, has risen in popularity with retail brands including J.Crew and Kate Spade.
After attracting more than 6,000 votes, Maybelline deleted its tweet Thursday evening.
Although a representative for Maybelline, which joined Snapchat in 2015, did not immediately respond to a request for comment, a L'Oreal spokesman later said "the tweet from an individual within our Maybelline brand in no way reflects the views of the company, nor the Maybelline brand. We have a strong partnership with Snap Inc. and are happy with the results we are seeing with the platform. We have chosen to delete the tweet to make our official position clear."
A Snapchat spokesman declined to comment to AdAge.
The Maybelline poll came a day after Jenner expressed sadness that she no longer opens Snapchat, and her 24.5 million followers echoed the sentiment. Shares for Snap Inc., Snapchat's parent company, fell as much as 7.2 percent on Thursday, leading to a $1.3 billion loss in market valuation, according to Bloomberg. The stock was recently downgraded by a Citigroup analyst.
Instagram has become a constant source of pressure on Snapchat since it began adopting Snapchat features including stories, the vertical-video montages that stay up for 24 hours. Instagram, a unit of Facebook, claims 300 million people view stories a day. Snapchat has 187 million daily active users, according to its public filings.
Instagram also offers easy advertising access for the millions of brands already on Facebook.
It recently redesigned to make a space for brands and publishers that is separate from the messaging side of the app, where it has its roots. Snapchat has never been overly helpful to brands' ability to reach people on its platform, preferring that they buy advertising there if they want to reach users.