Today, Google announced its annual 14th Annual Year in Search, a look at 2014 through the collective eyes of the world on the web, offering a perspective on the year's major events and hottest trends based on searches conducted in the UAE. This year's trending searches show growing interest in people, movies, games, sports and events.
In the words of Amit Singhal, VP of search at Google: "It was a year in which we were struck by the death of a beloved comedian, and watched news unfold about a horrific plane crash and a terrifying disease. We were captivated by the beautiful game, and had fun with birds, a bucket of ice, and a frozen princess."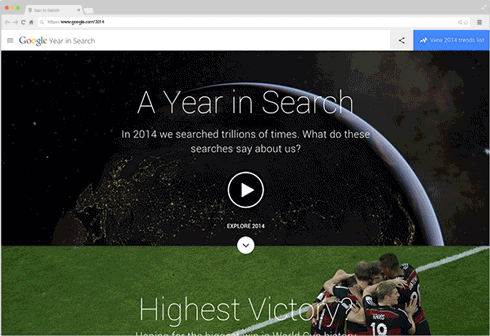 Watch Google's video to rediscover the events, people and topics that defined 2014 below:
The Year in Search site takes visitors on an in-depth look at the stories that made 2014 unforgettable. From the rise of the selfie, to understanding if we search for "how" more than "why," each chapter shares a glimpse into the people and events that drove this year forward. To find more information about Google's Year in Search across the globe, click here.
UAE's Top Trending Queries:
1. World Cup 2014
2. iPhone 6
3. Malaysian Airlines
4. رمضان (Ramadan)
5. Robin Williams
6. رامز قرش البحر (TV Show)
7. Flappy Bird
8. Narendra Modi
9. Diwali
10. Frozen
UAE's Trending People:
1. Robin Williams
2. Sunanda Pushkar
3. Narendra Modi
4. Joan Rivers
5. Philip Seymour Hoffman
6. Michael Schumacher
7. Amal Alamuddin
8. Renee Zelwegger
9. Kim Kardashian
10. Jordan Belfort
UAE's Trending Events:
1. World Cup 2014
2. Malaysian Airlines crash
3. Ramadan 2014
4. Diwali
5. Gitex
6. Gaza
7. Ice Bucket Challenge
8. Ebola
9. Oscars 2014
10. Scotland
UAE's Trending Movies:
1. Frozen
2. Interstellar
3. Maleficent
4. Godzilla
5. Edge of Tomorrow
6. Captain America 2
7. Dracula Untold
8. Gone Girl
9. Lucy
10. American Hustle
UAE's Most Searched Local Brands:
1. Dubizzle
2. Souq
3. Emirates
4. Air Arabia
5. Etisalat
6. Flydubai
7. EmiratesNBD
8. Etihad
9. Sharaf DG
10. UAE university