Mastercard has been shaking things up, first in 2016 by releasing its first new logo in two decades, and then in 2019 with the launch of its sonic brand – a "transaction sound" that can be heard when users check out. Beatrice Cornacchia, SVP Marketing and Communications MEA at Mastercard, sat with Communicate to explain the thinking behind this strategy.
What was the thinking behind the several changes that Mastercard made to its brand?
I'm really always convinced that a brand – any brand – needs to live in the moment that we are all living in, and to evolve based on the evolution of the world around it. It's our responsibility, as a brand, to continue to stay relevant and modern. So, we've innovated in two ways.
[Firstly,] in 2016, we started to modernize our brand. Our colors remained the same, but we decided to put the name below the logo instead of at the center. Then, in 2019, we became a symbolic brand, dropping the name completely. Globally, only four brands made that decision.
[Secondly,] Mastercard really wants to connect people to priceless possibilities and be close to them at all the different touchpoints. Today, we have around 50 billion connected devices. Most probably, in five years, 2.6 billion or more people will make biometric payments. In one of two years, more than $40 billion of payments will be made via voice shopping. All these elements are telling you something: sooner or later, the sight of the physical logo will disappear. So, we needed to create a new dimension for Mastercard on top of sight, and connect with consumers through the five senses. That's how we started to think about a sonic logo. This was an interesting journey because, in the same way that you want your physical brand to be relevant across the globe, you want your melody, your sound to be relevant across the globe – which is why we worked with producers, musicians, writers from everywhere. [The sonic logo] is also meant to be an additional element of comfort for consumers, to assure them that, whenever they make a transaction via voice, it is going through safely, securely and seamlessly, like in the real world.
As a marketeer, how did you feel the night before the name Mastercard was removed from the logo?
I still have goosebumps. I had the pleasure to be part of the team that, for 18 months, worked on the brand's modernization. The beauty of marketing is that it's a science. We don't do anything without the relevant data and without understanding what consumers want. So, before making that decision, we conducted extensive research across the globe, literally – Mastercard is present in 210 countries – to understand how consumers recognize the brand. We discovered that more than 80% of people globally recognize Mastercard by the red and orange, not the name. Thanks to that insight, we made a bold decision and decided to remove our name from the brand. But I can tell you that, even if we were quite comfortable with our decision, it wasn't an easy night. However, three days later, the reaction of the markets was so positive and we started to see our stocks going so well – there is a huge correlation between your brand and your stocks – that I even started to dream.
How was the sonic logo received?
The sonic logo is not something that can happen overnight. We've been working with our partners to put the sonic brand at the end of each transaction, whether you're making it online or in the physical world. But the first reaction has been extremely positive. Mastercard is also releasing its first album ["Priceless," with a first original song released In January] and we opened the Dubai Jazz Festival, for which Mastercard is a partner, with our sonic brand. Honestly, seeing the audience sing our melody was really a priceless moment. But of course, the journey has just started.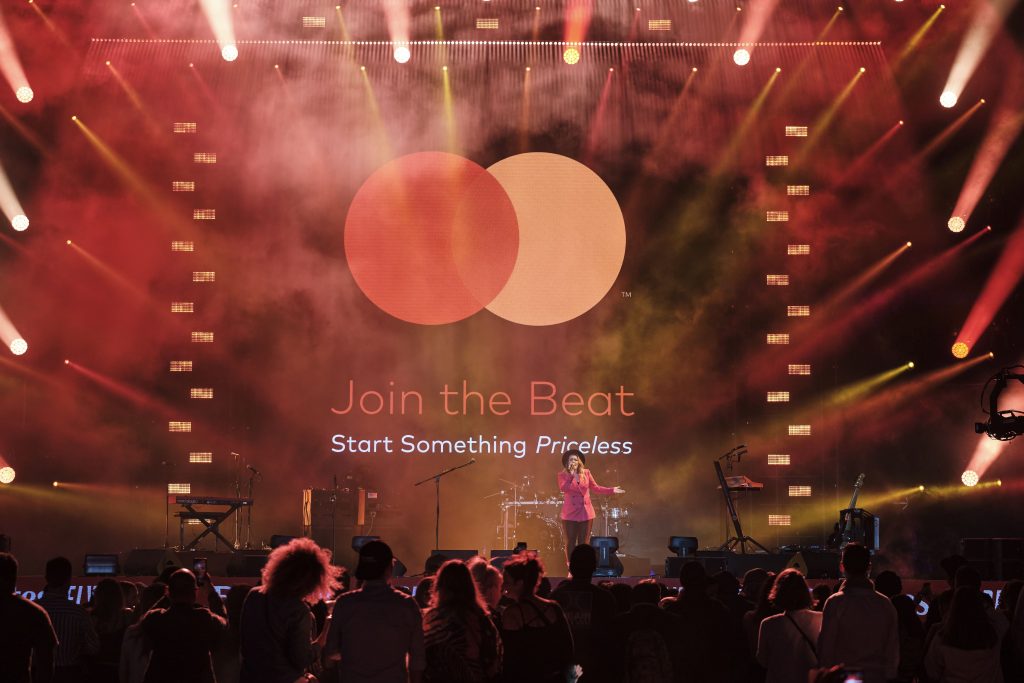 What metrics did you identify to evaluate the results of these decisions, exactly?
We have quite a number of metrics, and the stock price is definitely one – of course, I'm not saying that the value of the stock price depends only on the value of the brand. The second metric is brand preference, how consumers prefer Mastercard in their everyday life. We are moving away from brand awareness because awareness doesn't mean that I'm giving a concrete asset to my consumers. The third element is brand love, because we really feel that, as a global brand, it's extremely important to be in your consumers' mind and heart. These are the three main overarching criteria on which we evaluate our brand.
What are the next steps for Mastercard on the marketing front?
We started with sight; then, we went to sound; and then, we went to taste with the Taste of Priceless – a  partnership with [French luxury bakery and sweets-maker] Ladurée to launch a new flavor of macaron [in 2019, on the heels of the launch of Mastercard's first flagship restaurant in New York City]. So, we still have two senses to go and stay tuned, because something is happening [soon].