Broadcast specialist,  markettiers MENA has released the first-ever report that dives into the podcast market in Saudi Arabia. As the listenership for the podcast medium continues to climb globally, the report provides key details into the KSA market, to help marketers understand how to better reach their targeted audience. The research was conducted by Censuswide, on behalf of 4DC, an end-to-end strategic podcasting consultancy, and involved interviewing a sample of 2,011 general respondents in KSA.  Here are the key findings –
An overview of the KSA Podcast Market
A long-held assumption is that the podcast audience is more educated and further advanced in their careers. With those traits come greater social mobility and more disposable income.
The spending power bubbling away within the KSA listenership represents a remarkable opportunity.
Podcast listeners spend 17% more on food and drink than non-podcast listeners. Spending in Saudi Arabia is just as pertinent on expensive items as it is on everyday treats.
Podcast listeners spend 19% more on their lifestyle priorities such as investing in good skincare products and signing up for a gym membership.  They're also ready to spend on experiences such as dining out.
Podcast listeners are also willing to invest in their hobbies and interests. Data from the report shows that there is a 22% spend difference between listeners and non-listeners, when it comes to purchasing subscriptions for music and television services.
CONNECTING WITH THE AUDIENCE
Podcast listeners in Saudi Arabia have come to show near-absolute trust in the medium. It might be a newcomer to the media landscape, but listeners already trust podcasts more than radio, as well as local/regional newspapers and websites.
Male podcast listeners demonstrably like to engage with videos, blogs, vlogs, and data-led features much more than non-listeners. The same goes for female podcast listeners
75% of the respondents use their smartphones to listen to podcasts.
60% of the respondents listen to podcasts while doing other chores.
THE OPPORTUNITY FOR ADVERTISERS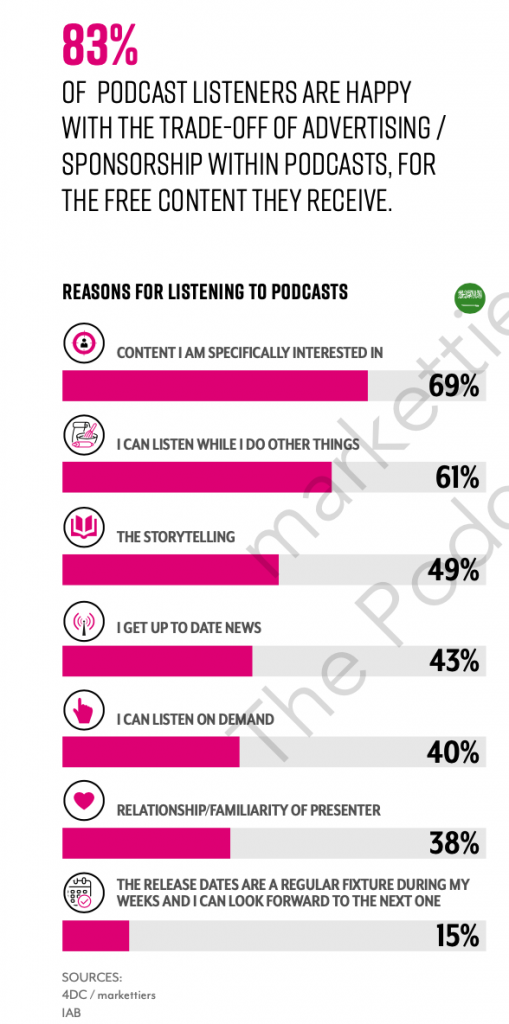 "It was our involvement at the Middle East Podcast Forum last October that spurred us to deliver this report, as we were continually being told of the burgeoning podcast landscape in Saudi Arabia, but there were not any numbers to quantify it – until now. Our report confirms an active, loyal audience and in a culture that values audio and trades off trust. Looking forward, as listeners expect, the best podcasts are not viewed by their brands as content add-ons, but as major campaigns in their own right, with substantial creative, social, and financial investment underneath. But no mistake about it, for a brand wanting to reach a specific audience in Saudi, the time is now to act. The audience is there, the appetite is univocal, and the metrics for measurement highlight the huge relatively untapped opportunity that's waiting to be seized," says Cheryl King, Managing Director, markettiers MENA,