More
Socialize provides e-commerce insights for the UAE
55 percent of the e-commerce market in the GCC is in the UAE and between 2013 and the 2014, the e-commerce sector in the UAE grew by 300 percent. UAE is one of the largest online stores in the world, with a 92 percent internet penetration rate and a 193 percent smartphone penetration rate.
Mobile Accounts for Half of the Online Sales
According to IPSOS, 87 percent of the internet users in the UAE shop online regularly and 78 percent of these shoppers came to the online store from social networks after seeing an ad or an interesting piece of content. The invasion of smartphones places the UAE among the leading m-commerce markets in the world: 57 percent of online sales take place on mobile according to Google MENA.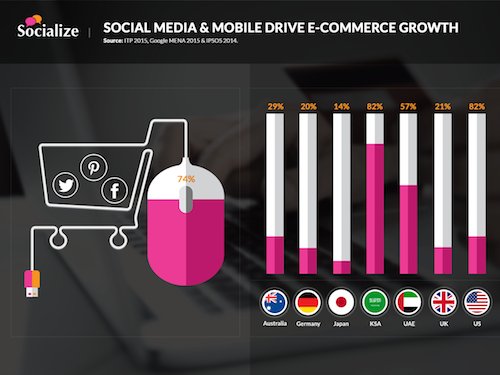 The Monthly Income Doesn't Matter
In the UAE, e-commerce is not limited to a specific monthly income. In fact, 21 percent of the online sales are made by people who have a monthly salary of AED 3000 or less. When it comes to gender and marital status, both males and females, married or single equally make their purchases online. Interestingly, 70 percent of female shoppers stated that they saw the item in the mall or store first before buying it online according to Dubai Chronicle.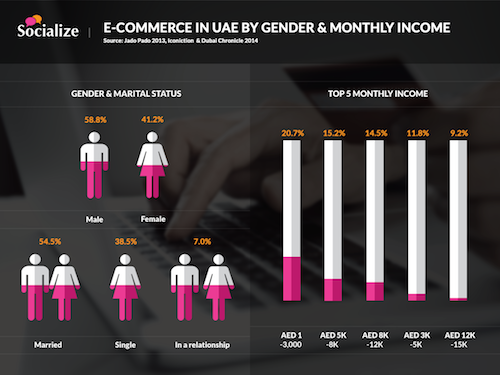 Cash on Delivery Rules
40 percent of the online shoppers in the UAE prefer Cash on Delivery (COD) as a payment method. According to MasterCard, there are two main reasons why shoppers opt for COD: they don't want to provide their bank information or they don't want to enter the card details in every transaction.