Research
This e-commerce brand has massively increased its reputation and impression in the Middle East
On March 28, 2017, Amazon acquired Souq in what was one of the biggest steps for e-commerce in the region.
Now, almost a year later, we look at how this acquisition has affected the sentiment, reputation, buzz, impression and recommendations of both brands.
Sentiment
Both brands received the highest increase in positive UAE consumer brand sentiment among retailers in 2017 with Souq.com making its debut in the UAE's top five most positively perceived retail brands for 2017.
Buzz
Buzz is calculated by asking consumers daily if they have 'heard anything positive or negative about a brand in the last two weeks, through advertising, news or word-of-mouth'. The rankings portray the top five brands with the highest average Buzz score, and the largest Buzz score improvement throughout the year.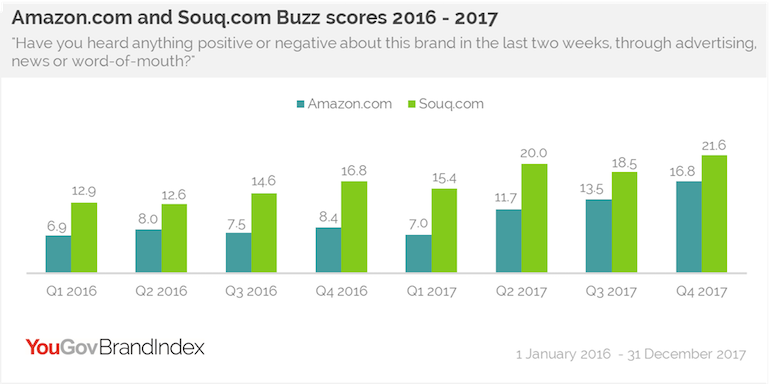 In 2016, Souq.com ranked as the second highest brand Buzz improver for the year in the YouGov BrandIndex Best Brand Rankings. However, in 2017, its scores soared – particularly just after the acquisition was announced – marking its first time in the top five retailers in the UAE overall in the 2017 Best Brand Rankings at fourth place.
Amazon.com also started to win more favor among consumers in 2016, sitting just behind Souq.com as the third most improved retailer for the year. However, Buzz scores for the giant online retailer also rose significantly last year, placing it just ahead of its acquisition at third place for improvement in the 2017 Rankings.
Reputation and Recommendation
To understand a brand's market reputation, throughout the year, BrandIndex also asks consumers "Would you be proud or embarrassed to work for this brand?".
In 2017, Souq.com increased its Reputation score, particularly in the second half of the year, reaching an all-time high in December when it announced the launch of the"Amazon Global Store" bringing over a million global products to the e-commerce landscape in the UAE.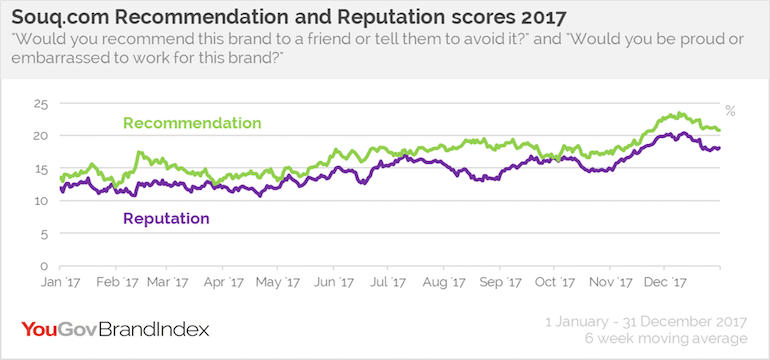 With Buzz and Reputation scores rising for the brand there's no surprise to see consumers more likely to recommend it to others too. Again, particularly in the second half of the year, when asked "Would you recommend this brand to a friend, or tell them to avoid it?", more consumers chose to recommend Souq.com, securing its highest average Recommend score to date.
Impression
The move has also given e-commerce giant Amazon.com a lasting impression in the Emirates in recent months. BrandIndex recorded a statistically significant increase in the global brand's Impression score in 2017 by asking consumers daily "Do you have a generally positive or negative feeling about this brand?".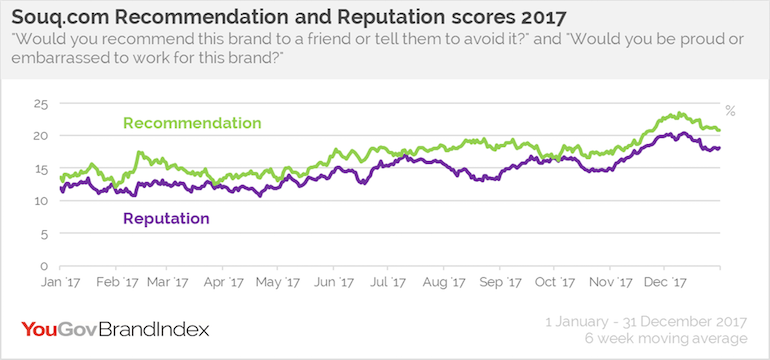 Commenting on findings, Scott Booth, head of data products, MENA, says, "The Buzz metric in BrandIndex illustrates the volume and direction of recent brand exposure in the UAE. Among retailers, the deal between Amazon.com and Souq.com was a tremendous move for e-commerce in the Middle East region and we're excited to see both brands sailing into 2018 with strong brand sentiment among UAE consumers. With Amazon.com also winning on impression, and consumers more willing to recommend Souq.com to friends it is clear the public recognizes the synergy created by the acquisition and the potential impact of the brands' collaboration in the market."
Note: All data is based on YouGov's BrandIndex