By the end of 1991, Brent Spar, a North Sea oil storage facility and tanker operated by – previously – Shell UK had become of little value to it on the heels of the completion of a pipeline connection to an oil terminal at Sullom Voe, Scotland. However, in 1995, it would prove to be of great cost, if not value, when the British government supported Shell's disposal of the tanker in the North Atlantic waters. "Environmental NGO] Greenpeace argued very effectively and very emotionally that the right thing to do was not to dump this nasty hazardous 'thing' in the pristine waters of the North Atlantic, but rather call it to Norway to a shipyard to be taken apart. Now, if the thing was toxic, was it sensible to drag it across waters to dispose of it? No," says Mary Jo Jacobi, former communications chief of HSBC, Royal Dutch Shell and BP America, in her opening speech at the Global PR Trends Summit, which took place in Doha, Qatar, on June 1 and 2.
Soft shell
In fact, Shell had eight volumes of science arguing its measures were proper ones; futile attempts that were overshadowed by Greenpeace's on-site live video feeds of the disposal that were shared with BBC. And although, sometime later, Greenpeace spokespeople admitted that they had misled the public, "passion won the day. Always tell the truth, but find the nugget of emotion that would have stakeholders relate to your position," says Jacobi, because "passion trumps data and science". That was one among seven lessons she learned working for nearly 40 years in reputation management, two of which she spent on top of the biggest crisis in Shell's history – she fortunately missed the Brent Spar debacle – that eventually led to the company's restructuring into Royal Dutch Shell in 2004; the company had "prematurely classified some 40 percent of its oil and gas reserves as 'crude', failing to comply with the US Securities and Exchange Commission regulations," recalls Jacobi.
As a result, Shell was the subject of a number of investigations and lawsuits, witnessed the sudden departure of its three most senior execs, but, most damaging of all, was at the center of a scandal that ensued an e-mail leak where "the head of exploration and production told the equivalent of the CEO that he was 'sick and tired of lying about reserves'. I had not seen that e-mail. Shell practically invented crisis planning, yet we were flat-footed by this. It didn't occur to us that someone would write something so stupid, from one senior to another," she explains.
Out of this incident, Jacobi had two takeouts: the importance of news media relationships that are effective, proactive and honest in successful reputation management, and the significance of instilling a culture of caution and awareness about the opportunities and risks of electronic communications. "Think before you write; and think of how it's going to look when, sometime later, it's going to be read in the court of law, on the front page or as the lead story on the nightly news," she warns.
Alter egos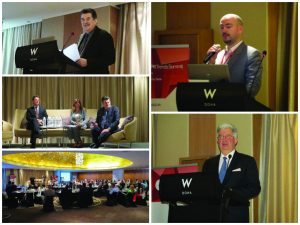 There is math to Jacobi's lessons, of course: reputation is the sum of opinions around an organization – "a brand is what you put out to the world and there is a fine line between both," she explains – and it also equals experience minus expectations; which is why brands, she adds, should "always meet or exceed expectations". Jacobi gives the example of HSBC, now the "world's local bank", and, at the time it moved from Hong Kong to London, "one of the biggest banks no one had ever heard of". And so, Jacobi decided to have HSBC sponsor a Formula One team – "not the best one, but it did the job" – and brand all jetties at London's Heathrow and Gatwick airports. "And when we rebranded HSBC, we believed that the brand would only be as strong as the worst cashier on his or her worst day."
In this regard, Jacobi refers to PR multi-national Edelman's Trust Barometer study, which, over the past 14 years, has found a company's most trusted spokespeople to be its employees. "Engage employees as powerful reputation ambassadors" – another lesson.
Jacobi may have digressed into the past a tad too much because, she explains, even though "PR is changing, sometimes, it's helpful to look back to see what lies ahead"; which is exactly what her husband Patrick Jefson, Princess Diana's former private secretary, did in a presentation that followed, entitled: Analyzing the Importance of Reputation Management for Senior Executives, where he mapped out a CEO's typical career course: "A steep climb to success, followed by a plateau, followed by a rapid descent into disgrace or failure, and, a few times, by a new professional adventure."
Much like Jacobi, Jefson has had a long career managing accomplished businessmen and reputed corporate seniors, many of whom, unfortunately, suffered from a deadly vice that had them lose touch with the realities of reputation management: "hubris, the belief that they are above the law. They wanted a succession of favorable stories in the media about themselves and, eventually, started to believe their own publicity"; like Gerald Ratner, former chief executive of major British jeweler Ratner, who once, at an annual shareholders' meeting, held a product by his own company and called it "rubbish". "Compare him to Michael Bishop, boss of BMI International – now British Airways – who, after one of the airline's planes, full of passengers, crashed into an airport in England, went out himself, stood in front of the cameras and expressed contrition and dismay," recounts Jefson. Ratner was bashed and Bishop commended for his emotional response to the disaster. "CEOs and senior executives must define the essence of the individual brand at the first glance and at the 1,000th glance. The key message must be built around them and they, in turn, must individually live it," he adds.
Marc Langendorf, deputy head of corporate communications and government affairs at Siemens AG, would strongly agree. When a disgruntled Chinese blogger shared a photograph of himself smashing Siemens refrigerators – his own Siemens fridge being defect – the company had been facing two years of embarrassing delays in delivering trains to Germany and a widening profit gap of 4.3 percent vis-à-vis its competitors. But, in May 2014, following a change in top management, Siemens needed to communicate its "Vision 2020: electrification, automation and digitalization. And it decided to deliver this vision to 360,000 employees in more than 200 countries by holding the world's biggest employee event via a live webcast directed by the CEO, who then addressed customers personally to communicate Siemen's new direction," explains Langendorf.
Spider Web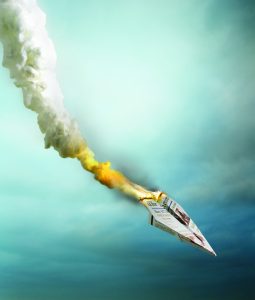 Indeed, the advent of web and social media has incurred key changes on the PR industry, says Donal Steel, former chief communications adviser at BBC UK. He refers to Samsung exec David Eun, a passenger on an Asiana Airlines flight that crash-landed in San Francisco in July 2013, who was live tweeting about the status of fellow passengers; a bold testament to the power of social media in PR crisis management.
In a simulation session later in the day, Steel had attendees respond to a hypothetical PR crisis that involved an oil company called Globoil, near to which a tanker swerved off its initial path and hit a school's bus queue, making news headlines. In response to the breaking news, session participants were asked to write up immediate press statements, all of which apologized for the unfortunate incident. "How did you know it was your tanker?" asks Steel, listing five rules to follow during a PR crisis: "Tell the truth; use statements to take control; use facts and feelings in those statements; act quickly, by sending out the first print statement within 15 minutes and the first social media update within five; and, use all channels to say what you mean to say."
According to Steel, PR professionals should have a list of statements that is pre-approved by clients for worst-case scenarios; which would have served well for Noha Saad, senior manager of public and media relations at telco operator Vodafone Egypt, which, on New Year's Eve in 2013, was embroiled in "its strangest PR crisis ever", when Egyptian talk show presenter, Ahmed Moussa, hosted a social medial activist that went by the name of Ahmed Spider. The latter claimed that Vodadone's low-budget TVC to promote the reactivation of users' SIM cards, created by JWT Cairo and starring a puppet character, Abla Fahita, hinted at messages of espionage and terrorism against the nation in which the operator was involved. Khalid Hijazi, Vodafone Egypt's director of external affairs was called in for an intervention that "did not go well, with Moussa accusing him of taking the accusations lightly," explains Saad. The next morning, Hijazi was called in to the DA's office for an official investigation around the ad. "We needed to explain to investigators the basic process of how an ad is commissioned to an agency. And soon enough, the news had reached the Vodafone UK headquarters. We immediately issued a PR statement clarifying the intent of the ad. I was trying to take it seriously, because it was not a joke as we initially thought it to be," she says.
Having identified its key stakeholders – including Vodafone UK and Egyptian government officials – Vodafone Egypt remained mum on January 1, 2, and 3, 2014, only updating the media on the status of the DA investigation. "Explaining to 60 or 70 journalists a story that did not make sense was not possible," adds Saad. In fact, Vodafone Egypt received 25 international press inquiries – from the likes of CNN, BBC, Agence France-Presse, France 24, The New York Times, The Economist and The Washington Post – 17-plus local queries and had four TV channels, including Egypt's CBC and Al Jazeera, covering the scandal. In agreement with JWT Cairo, the agency was pushed to the forefront, its CEO appearing in a live interview to explain the concept behind the ad.
However, it was another interview on CBC with Abla Fahita that saw a spike in social media buzz for Vodafone Egypt, when Spider, over an intervention call, threatened to sue the puppet for ridiculing his accusations. "Abla Fahita was now the target and we slowly disassociated our brand from hers."
Social Spin
Although the legal status of the Abla Fahita case is pending, Saad says the PR scandal turned out to be most successful advertising campaign for Vodafone Egypt, garnering one million views in 48 hours, "while we were initially aiming for 100,000 views". In fact, the campaign generated more than EGP7,000,000 (Egyptian pounds) in free media coverage – EGP5,000,000 for print, EGP1,500,000 for TV and EGP700,000 for digital. After the crisis, Vodafone Egypt's social media buzz went up by 137 percent in two weeks' time, while the scandal generated 500,000-plus interactions on Facebook and 69,000 tweets. "Seventy four percent of the buzz was positive, 14 percent negative and 12 percent neutral; also, 17 percent of social media interactions demanded Vodafone to take legal actions and 57 percent was sarcastic comments in favor of the operator," adds Saad.
Vodafone Egypt's online media tracking of the crisis was on point, as it transpired in a later presentation by Fadl El Tarzi, CEO of social media monitoring platform SocialEyez, who talked about "measuring what matters". From automated raw data (such as language and geography) to semi-automated data clustering (such as media type) and semi-automated data pre-analysis, El Tarzi and team "often end up having to do content analysis manually". And although SocialEyez systematically measures quantitative metrics, such as fans, followers, volume of mentions, conversion rates and active users, El Tarzi warns against their misleading results, because "no matter how good your content is, it will never reach 100 percent of your fans. Agencies are often blamed by brands for not providing them with the right [social media] content. The truth is, Facebook has reduced and capped organic reach over the years to make more money". Qualitative metrics, such as tone, sentiment, emotions, theme cloud – a series of terms used to refer to a brand – sales leads, as well as crisis indicators, require human analytics, he adds. "Influence and sentiment are relative to your brand." Moreover, SocialEyez has been pushing for a more detailed analysis of influencers – such as Spider – including a "breakdown of who these people are actually influencing".
New brand building has gone from messages to conversations, static to dynamic, saying to doing, look and feel to experience, simplicity to depth and audience to community, Hubert Grealish, founder and partner at MPERA Consulting says, in another presentation, entitled: PR in a Social Media World. "People like people. Consumers are humanizing media – the selfie being the perfect example – and their moods have overtaken conventional demographics," explains Grealish, adding that the opportunity for brands lay in incentivizing experiences, as "55 percent of consumers wants on-going conversations with them and 89 percent would feel more loyal to them if invited to take part in a feedback group".
In theory
One unexpected lesson Vodafone Egypt learned from the Abla Fahita case study was that CSR pays off, says Saad – and it should, as it spends an average of EGP20 million per year on CSR activities – as customers were quick to support it during the crisis for all of the work it had done for the country.
Piers Schreibel, vice-president of corporate communications at Jumeirah Group, concurs: "A caring culture equals forgivability". Schreibel gives the example of the group's Burj Al Arab tower in Dubai which, aside from its sheer size and glamor, has dedicated a huge part of its space to a marine biology facility, educating visitors on helping sick sea turtles, and investing in rescue, rehabilitation and research efforts for this cause.
Moving away from data and into theory, Jonathan Wilson, lecturer and course leader in advertising and marketing communications at the UK's University of Greenwich, talks about transformational leadership for brands. Over the years, Wilson asked a same set of questions to experts in branding, advertising and PR, who had, collectively, 400 years of experience working on a total of 185 brands. According to Wilson, average managers spend an equal amount of time doing all activities, successful managers spend 48 percent of their time networking and effective managers spend 44 percent of their time communicating. He says: "When asked about brand management, people kept mentioning the word leader. And they want transformational leaders. If such is the case for individuals, why can't we apply it to brands? They are meaning creators, language shapers and game changers. Brand-building shouldn't be about creating aliens and ambassadors. It should be about authenticity, balance and communication."
Only as a professor would, Wilson left the audience with an open-ended question: "Are brands, reputations and leaders born or made?"
Catch a glimpse of the Global PR Trends Summit 2014 on our YouTube channel.