Opening digital conference ArabNet 2014, which was held from June 3 to 5 at Dubai's Atlantis, The Palm, Omar Christidis, the ArabNet hub's founder and CEO, set the scene for a three-day discussion on monetization opportunities for the MENA region's digital ecosystem, entrepreneurs and agencies.
Talking about the progress the UAE government has made in fostering a thriving environment for the digital entrepreneurship ecosystem, as well as pushing its own digital transformation, he says it is "making serious investments into e-government, while telecom operators are similarly investing into building out departments focused on innovation, and digital products and services".
In a later presentation, telco operator Du's CEO, Osman Sultan, concurs: "Being connected is a basic human right. Back in the day when I started [out in the industry], it was far from an obvious statement," adding that the Arab world is poised for a wave of change to which ICT (information and communications technology) enablers will heavily contribute through content applications, digital payments, cyber security and infrastructure, among others.
Right on the money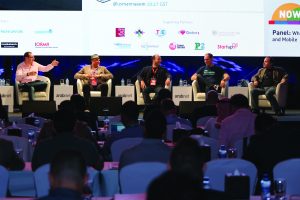 The city of tomorrow, visualizes Osman, will integrate data collection, hosting and analytics tools, will have centralized access points and will see a host of new payment technologies. "There will be government entity apps, third-party user apps and Du/Etisalat apps," he explains, adding that: "We are moving from unshared certainties to shared uncertainties." That move is rather fast; the past year having witnessed a rapid transformation in the region's digital sector.
"Souq.com raised $75 million to continue its expansion, with the potential of being the first billion-dollar Arab dot-com," says Christidis. Indeed, Souq.com ranks as the top online transaction site in the UAE, Saudi Arabia and Egypt, according to a report on the state of payments in the Arab world, shared by Omar Soudodi, managing director at online payment gateway, Payfort. According to the report, e-commerce has grown by 45 percent in the MENA region; its penetration rates standing at 46 percent in the UAE, 25 percent in the KSA and eight percent in Egypt. The regional online buyer population – standing at three million people on average per country – is largely dominated by men, who drive 60 percent, 85 percent and 70 percent of e-commerce transactions in the UAE, KSA and Egypt, respectively.
It is also led by a younger demography, with the 18-to-24-year-old bracket making up 38 percent of online buyers in the UAE, 30 percent in the KSA and 40 percent in Egypt. Online air ticketing, which makes up roughly 20 percent of e-commerce transactions in all three countries, has reached $50 billion in the Arab world, whereas "revenues from online travel portal sales stood at $2.3 billion in 2012," explains Soudodi. However, an overwhelming majority of online buyers in the region – 78 percent in the UAE, 72 percent in the KSA and 80 percent in Egypt – still prefers cash on delivery (COD) as a payment method, even though the KSA has the highest amount of credit and debit cards in circulation (12,300,000), followed by Egypt (7,600,000) and the UAE (5,900,000).
Francis Barel, business development manager for the MENA region at Paypal, confirmed these findings in a later presentation on mobile commerce (m-commerce). Paypal expects MENA e-commerce to reach $15 billion in 2015, when compared with $11.2 billion in 2013 and $12.8 billion in 2014, 20 percent of which would be on m-commerce. "But COD's percentage of online sales still stood at 80 percent of e-commerce in the Middle East in 2012. We expect this percentage to drop to 60 percent in 2015," says Barel. Inversely, Paypal predicts its share of online transactions in the region to jump from five percent in 2012 to 15 percent in 2015. "In COD models, there are hidden costs. Seventy percent of COD users in the region today have a credit card. Whenever they buy from an international website, they use credit cards. Only when they use local websites, they use cash," says Barel, adding that regional e-commerce platform Jadopado recently stopped offering COD services.
Future Bets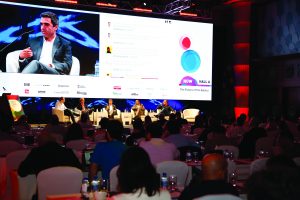 However, Paypal holds a hopeful outlook on its regional operations, as its soon-to- be available Arabic version, coupled with several clients it has on-board such as Emirates Airline, Souq.com and video-on-demand platform Icflix, shows promise for online payment solutions. In fact, Payfort's report also shows that regional banks' foot traffic decreased by 50 percent in 2012 as a result of increased user adoption of online banking, which probably explains why regional banks have been heavily investing in their social media and online presence, as it transpired in a later study presented by Ayman Itani. Defining an active bank as one that has at least one social media account, the study reveals that 43 percent of banks in the UAE are active. In May 2014, the average community size for active banks stood at 101,991 fans on Facebook, 16,412 followers on Twitter, 13,570 on LinkedIn and 500 followers on Instagram. However, active banks are not all that active on several networks, averaging four posts on Linkedin and 12 on Instagram per month. In terms of content, meanwhile, 40 percent of social media posts by banks marketed their brands, 36.95 percent engaged with consumers and 6.2 percent recognized them.
And while the banking industry is catching up with certain global trends, it has firmly stood its ground against others, such as virtual crypto- currency bitcoin, the topic of a panel discussion that featured David El Achkar, founder and CEO of Bitcoin Lebanon; Tariq Kaddoumi, co-founder of Bitcoin MENA; and, Amber Haque, co-owner of The Pizza Guys – the first pizzeria in the UAE to accept bitcoins. When asked about how the currency can grow in the UAE, where the central bank has been warning against its use, Kaddoumi says: "Bitcoin can and should be regulated by the government," while El Achkar adds: "Bitcoin has democratized value the same way the Internet has for information, allowing users to send money around the world without the need for a middleman."
However, the crypto-currency has been riddled with a series of scandals and controversies as of October 2013, when online black market Silk Road, which allowed users to purchase guns from around the world, was found to transact and trade in large volumes of bitcoin.
In February 2014, Mount Gox, an exchange company that allowed users to trade bitcoins, went bankrupt and lost all of its customers' funds. "But people confuse the failure of Mount Gox with that of Bitcoin," argues El Achkar. To other concerns around the currency's volatility, he says: "To hedge against risk, businesses can charge customers bitcoins, but receive dirhams on their end," while Haque, who's had 40 customers transact with bitcoin, adds: "It is the increased adoption of bitcoin that is going to stabilize it." And while Kaddoumi claims bitcoin "needs to be studied just like stocks and securities", he's got little clarity as to its economic functioning, which, for most part, has been deflationary – with a limited supply of 21 million coins worldwide. "It is not fully deflationary yet. It starts as an inflationary currency, and it keeps inflating until it stabilizes itself and the economy."
And while El Achkar affirms that Bitcoin is a completely open and exclusive technology, "allowing anyone to make changes for it and release it to the world", Kaddoumi clarifies: "Bitcoin is controlled by nodes, which themselves are controlled by people. I can hack bitcoin, but its network will reject my changes."
Multi-screen models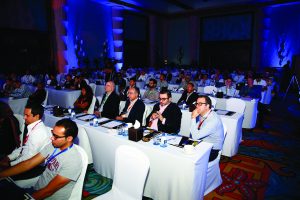 Figuring out online money was a recurrent theme at this year's ArabNet conference; in a presentation entitled: The Media Scene in MENA and the Future of Planning, Elie Aoun, president of the MEAP (Middle East, Africa and Pakistan) region at Ipsos MediaCT – the media, content and technology arm of research company Ipsos – discussed monetization opportunities in users' multi-screen behaviors. "Different media complement and don't compete with each other," says Aoun, adding that, for regional broadcasters, such as MBC, YouTube generates 8.8 percent of incremental reach – the channel also enjoys an 85 percent total reach across smartphone users.
In his talk on multi-screen engagement, Tom Roychoudhury, chief innovation officer at MCN (Middle East Communications Network) Holding, added that brand recall actually increases with multi-screen behavior, with the likelihood of viewers recalling advertisers on a TV show standing at 46 percent on average; 53 percent when consumers are using four screens, 46 percent when they are watching three screens and 42 percent when they are exposed to two screens. This is largely due to changing user consumption patterns in a new multi-screen world – where 90 percent of media consumption is screen based – which Roychoudhury categorized as follows: snacking, the habit of self-packaging content from the Internet or TV and consuming it anywhere; multi-tasking, the consumption of different types of content simultaneously; place-shifting, copying television content to digital media to watch it anywhere; and, time-shifting, recording and watching content at a time convenient to the user. This, of course, translates into ample opportunities for advertisers, as well as for media planners, to leverage multi-screen engagement in their favor; which is why Ipsos has introduced a unified set of metrics across media for "transforming impressions into insertions," according to Aoun, including CPT (cost per 1,000 contacts), target contribution in channel average audience, average minutes, share of minutes and share of audience.
"We're the only company that can measure both online and offline; people working on either of these platforms are struggling to bridge one with the other. We came up with solutions after two years of meetings with agencies and media reps. And I think what we are proposing to the market here is very much needed all over the world. And it will be a breakthrough in the media planning world," he tells Communicate, adding that traditional online measurement, "whether through a cookie or software panel, leads to a lot of duplication. We are building panels where you are counted as one person, whereby we install an app on your devices and track your online behavior accurately".
Arts and Sciences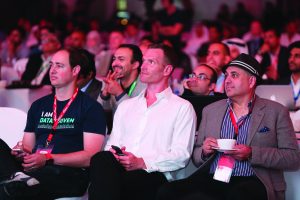 Still, "advertising is not about averages. It's about you," says Piet Hein Van Dam, founder of social networking site Wakoopa, as he discussed how "big data will revolutionize online advertising". "Half of all impressions on Google's ad network are not shown to human beings," he explains, highlighting Wakoopa's service offering in "studying the indirect effect impressions have on users tracking net impressions – those that have been seen only by human beings – and building predictive algorithms to make RTB (real-time bidding) online more effective". Closing his sales pitch, Van Dam adds: "In a few years, we'll not listen to [TV show Mad Men's charismatic lead adman character] Don Draper. We'll be listening to nerds."
Funnily enough, his presentation was followed by emotional statements by Nick Barron, CEO of Mediacom MENA that would put Draper's to shame. "Clients were great people, they made decisions. Integration wasn't something we aspired to. It was a no-brainer. We did it. Surely, agencies were greedy; it wasn't always essential to go to the Maldives to shoot a TVC. Equally, we weren't really accountable. We couldn't measure stuff. If it went wrong, it went wrong. It breaks my heart that we can measure everything. Unfortunately, we've all gone into specializations and silos," says Barron, adding that: "If we don't change, I don't think there will be a 150-year-old agency in the future."
Indeed, the future of agencies was the subject of a panel discussion that followed, which featured Michael Nederloff, CEO Middle East and North Africa at Dentsu Aegis Network; Yousef Tuqan, chief innovation officer at Leo Burnett MENA; Tarek Daouk, regional managing director at Mediavest and Starcom Mediavest Group MENA; and, Tarek Miknas, CEO at FP7. Speeds of change and talent recruitment are among the toughest challenges faced by agencies today, according to all panel members. When asked about the value proposition of agencies against automated data, optimization and analytics tools and user-generated content creation, Daouk says: "Do you know how many platforms are there that help you optimize your investments? If anything, [these tools] will price up the value of the agency. The machines cannot work on their own." "If agencies don't do their jobs, clients are going to do it for them or have someone else do it for them," says Tuqan, adding that agencies need to "use technology to solve problems. Year-on-year, advertisers are paying us five percent less and our team is getting paid 50 percent more". "We're not making as much money as we used to. We're look- ing at something out of which we'll make a penny every time we use it," says Miknas, adding that the ecosystem will get tougher for independent agencies, as big multinationals will move and invest fast in tech and digital startups. Indeed, Tuqan is looking for "anyone that's building a really good scalable platform, where users do all of the work", Nederloff for branded content and mobile companies, and Daouk for content creation.
One pool they could tap into is ArabNet's Digital Showcase series, where hopeful startups pitched their ideas – and funding requests – to prospect investors. The startups included Pixel Bug, a company that provides digital solutions, augmented reality (AR) and projection technology; Cary, a mobile app for buying and selling cars through machine-to-machine cellular data exchange in real time; Fariqak, a fantasy football game that saw its soft launch in 2013; Roundmenu, a restaurant reservation and review app that is socially integrates with key platforms with which diners interact, such as TripAdvisor. com and Foursquare; Feelit, a social network that connects people through an emotional timeline filled with their friends' and families' 'feelings'; and, Taskspotting, a mobile app that crowdsources on-the-ground insights for retailers through digitized mystery shopping.
Catch a glimpse of the conference on our YouTube channel.
Related Topics:
arab net, Arabnet, arabnet summit, arabnet2014, bitcoin, bitcoin mena, cary, ecommerce mena, fariqak, feelit, jado pado, paypal, pixel bug, roundmenu, startups mena, taskspotting