Jacques Seguela, Havas Worldwide's vice-chairman and one of the industry's longest standing admen, is about to embark on his fifth career in the industry. "Our ad industry has the extraordinary opportunity to transform into a different one every ten years. My first [career] was in the '50s and '60s, when the likes of [French film actor, director and screenwriter] Sacha Guitry, not admen, would write slogans. Then, I got into the golden age of print advertising – which was the real first screen – in the late '70s and early '80s. Then, it was TV advertising, which revolutionized the French ad industry in 1968, and was all about storytelling, which, although is a buzzword today, is not all that new; we used to tell stories in two minutes, then in 90 seconds, then in 60 seconds, then in 30 seconds. And we'll get to 20 seconds soon. My fifth career started with the advent of the Internet; I didn't know it, but, before digital, I wasn't doing advertising. I was doing propaganda. Today, online influencers and users are co-proprietors of brands. The new generation has cameras for eyes, earphones for ears, mics for mouths and clicks for fingers. It will completely transform the industry," he tells Communicate.
Held in partnership with Communicate, Portfolio Night, hosted by Havas Worldwide Middle East on May 21, took place simultaneously at Dubai's Make Business Hub venue and Beirut's Symposium Executive Center, where, in a series of speed-pitching rounds, university students in the advertising and design fields showcased their works for review to regional creative directors and leaders.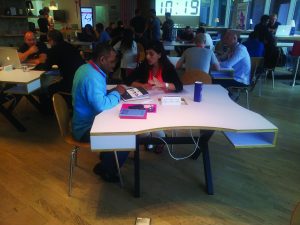 Opening the event, Seguela shared his wisdom with young talents – only as an adman would, of course. "There is the English way of advertising, which starts from the head and goes to the heart. There is the French way, which starts from the heart and goes to the head. And then, there is the American way, which starts from the head and goes to the wallet. And that is a [bad] way. Advertising is only good when it's driven by passion. Let's change the course of advertising, not that of stock market shares."
Of course, young talents will need some time to change the course of the industry, their work having received mixed reviews from the Portfolio Night judges. "We had some really clean art direction and a lot of branding work. One or two portfolios had really strong ideations and storytelling behind them, while the others had clean craft executions, but didn't have any idea. I find that universities really need to give students live briefs and collaborate more with agencies," says Ciaran Bonass, creative director at Havas Digital UAE.
Seyoan Vela, executive creative director at JWT Dubai, concurs: "There is good execution [in the work], but, conceptually, [we still have] a long way to go; which is understandable, because with the exception of Egypt, advertising isn't part of popular culture in the region, as it is in European markets. I always get the impression that people in the region want to be artists and photographers, whereas in other markets, people grow up wanting to do advertising."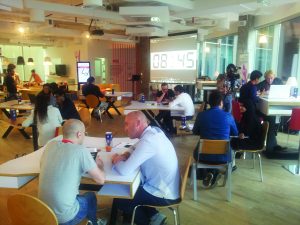 Leslie James, BPG | bates' chief creative officer, meanwhile, adds: "A couple of portfolios had raw works with good ideas, but they were not executed properly. [However] overall, work was quite good for their [students'] age. In our time, we were clueless."
The event was capped with the judges' selection of the winner with the best portfolio, who was American University of Dubai (AUD) student, Anam Kibria, a visual communication major. "I think I won because I have passion for what I do. Before my internship [at Leo Burnett], I had the ideas, but I didn't know how to sell them commercially. And then, during my last semester at university, we were given a live brief by JWT, which helped me hone and refine my pitching skills. The focus at universities is still very much on print, TVCs and traditional mediums, whereas agencies are looking for digital and guerilla marketing skills," says Kibria, who will be representing the region at Portfolio Night's All-Stars event in New York in August 2014.
Since its inception 11 years ago, Portfolio Night has grown to span 37 countries.