Digital
What Snapchat's Sponsored 3D World Lenses mean for advertisers?
Because it's not enough to have ads in the virtual world, Snap is now bringing ads into the real world. In May, the camera company (as it calls itself) announced Sponsored World Lenses, which allows users to add augmented reality (AR) elements in any picture or video captured through the app. However, the feature was limited to floating objects and atmospheric effects.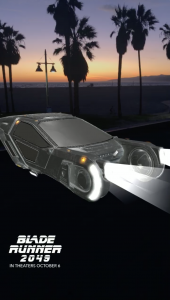 Now, with 3D World Lenses, users can apply the same effects to 3D objects too.
One of the first brands to partner with Snap is Warner Bros. for Blade Runner 2049.
On average, campaigns with Lenses drive a 19.7-point lift in ad awareness, 6.4-point lift in brand awareness, and 3.4-point lift in action intent, according to a Nielsen research for Q3 2016 to Q2 2017. Another Nielsen research shows that 2/3 of ad awareness lift is achieved in the first two seconds of a Snap Ad.
Furthermore, Snapchat users are now taking more than three billion Snaps a day on average, so the run rate is now more than one trillion Snaps taken in a year.
The Sponsored 3D World Lenses can be run either as a National Lens; targeted Audience Lens (age, gender, interest-based etc.) or as an attachment to a Snap Ad.